Apple Television Set Not Expected Until 2015 or Later, But A7 Apple TV Could Come in 2014
Confirming earlier reports suggesting the long-rumored Apple television set is taking a backseat to other Apple projects, KGI Securities analyst Ming-Chi Kuo today told investors that he does not expect Apple to produce a television set until 2015 or 2016.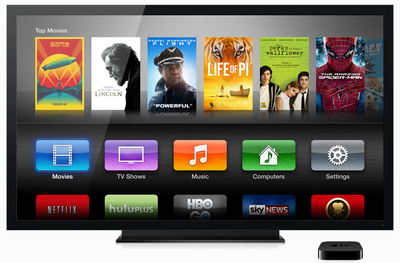 Kuo does believe, however, that Apple may launch a new version of the existing Apple TV set top box with the same A7 processor found in the iPhone 5s and Apple's newest iPads in 2014.
We expect Apple to launch a new version of the Apple TV with an A7 processor in 2014, and we forecast 2014 shipments to total 8.2mn units. Shipment growth will be limited unless Apple is able to integrate more TV content, services and its App Store, in our view.

According to Kuo, the cost of launching a supply chain for television set production is a major obstacle for Apple's television set plans, as is the company's continued struggle with procuring additional content deals. Kuo believes that integrating TV content, an App Store, and other services are key to skyrocketing the Apple TV and a subsequent television set from a hobby to a viable product.
We believe the slowdown in Apple TV shipments suggests Apple faces challenges in integrating TV content and services. If Apple wants to launch iTV, the challenges of integrating content and service are more difficult considering the different TV content ecosystems (e.g. cable operators) in various countries. Moreover, establishing an iTV supply chain is very costly. Thus we believe iTV launch will be delayed to end-2015 or early 2016 at the earliest.
There was some speculation that Apple could release an updated Apple TV product during the company's recent iPad event, but according to TechCrunch's MG Siegler, Apple is not yet ready to debut its revamped hardware, which could include upgrades like Siri integration or motion control, so a 2014 timeline makes sense.
Apple has also thus far been unable to secure the deals with content providers and cable companies that are necessary for it to revolutionize the television experience, but it remains in ongoing negotiations with multiple companies including Time Warner.