Jony Ive Designs One-of-a-Kind Red Mac Pro for Product (RED) Charity Auction
For their upcoming Sotheby's charity auction to benefit Product (RED), Apple senior vice president of design Jony Ive and designer Marc Newson have created a one-of-a-kind Mac Pro, featuring the new Mac Pro's radical cylindrical design with a shiny red finish that matches the style of other Product (RED) items produced by Apple.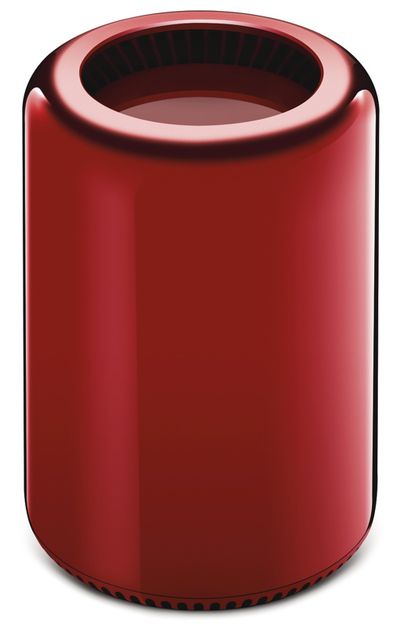 On the auction site, the Mac Pro value is listed at $40,000 to $60,000, and like the rest of the custom-designed products, it will be auctioned off on November 23. It is unclear whether the Mac Pro will be available to the buyer at that date, as Apple has announced that it will officially launch the Mac Pro to consumers in December.
The specs of the red Mac Pro are not listed on the auction site, but Apple's Mac Pros start at $2,999 and come in several different configurations. The entry-level version includes a 3.7 Ghz quad-core Intel Xeon E5 processor, dual AMD FirePro D300 GPUs, 12 GB of memory, and 256 GB of PCIe-based flash storage.
The higher-end 3.5 Ghz 6-core version with 16 GB of memory will starts at $3,999, and additional configure-to-order options offer 8-core or 12-core Xeon E5 processors, AMD FirePro D700 GPUs, up to 64 GB of memory and up to 1 TB of flash storage.


Ive and Newson have also collaborated on a number of other products, including a one-of-a-kind Leica camera, an aluminum desk, and solid gold Apple EarPods. Proceeds from the auction will go to Product (RED), a longtime Apple partner. Apple has raised more than $65 million for the charity since 2006.
(Thanks, Anthony!)