Apple hasn't produced a dedicated camera since it released the QuickTake in 1994, but a new collaboration between Apple's senior vice president of design Jony Ive and Leica gives a glimpse of what an Apple camera could look like today (via Pop Photo).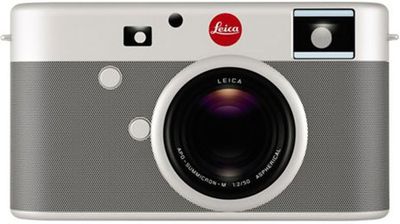 Ive has designed a one-of-a-kind Leica M Rangefinder to be auctioned off at Sotheby's to benefit Product (RED). The camera, which utilizes a sleek aluminum design, took more than 561 models, 1000 prototype parts, and 85 days to design.

Leica Camera is pleased to present The Leica M for (RED), designed by Jony Ive and Marc Newson. The camera, based off the Leica M, will be auctioned off at Southeby's on November 23rd 2013 to raise money for The Global Fund to fight AIDS, Tuberculosis and Malaria. From a design standpoint, it features a laser machined aluminum body and an anodized aluminum outer shell.
Like all Leica M Rangefinders, the camera features a full-frame 24-megapixel sensor, a 3-inch LCD, and full HD 1080p video. The standard Leica camera retails for $7,000, and Ive's version could fetch quite a bit more.


The camera will be auctioned via Sotheby's on November 23, along with a number of other products including solid gold EarPods that were also designed by Ive. Proceeds will go to Product (RED), a longtime Apple partner. Apple has raised more than $65 million for the charity since 2006.