Curved Handheld Displays Almost Ready for Market
Both LG and Samsung plan to release phones that feature curved displays in the near future, reports Reuters. Flexible curved displays, which have been utilized in television sets, are a developing technology for smartphones and other consumer electronic devices.
Curved displays are in the early stages of development and allow bendable or foldable designs that could eventually allow mobile and wearable gadgets to take new forms that could radically change the high-end smartphone market.
Apple has been rumored to be working on curved displays for several years, with rumors from 2011 suggesting the company could debut a curved glass iPhone. A patent for such a device was published in March of this year, depicting a phone with a wraparound body.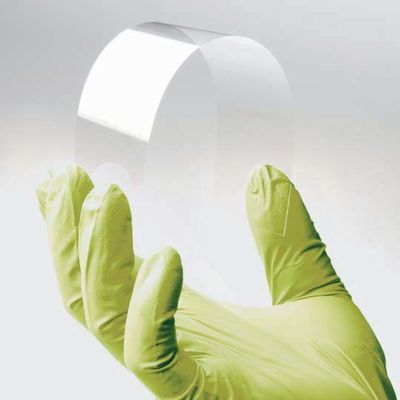 Corning's Willow Glass
More recently, it has been suggested that the company's rumored iWatch could
incorporate
a curved glass display, using bendable Willow Glass. While Gorilla Glass has claimed that the technology is
not yet ready
for consumer devices, a plastic-based flexible display similar to the one used by LG and Samsung is readily available.
The debut of LG and Samsung's initial curved display products will provide a glimpse of what the future could hold for upcoming smartphones and other electronic devices, including the iWatch.
LG's smartphone is said to utilize a 6-inch display that curves from top to bottom, while Samsung's will curve from side to side. Both displays are built on a plastic substrate that allows them to bend and flex, and according to LG, its display will be among the world's thinnest mobile panels.
While the phones incorporate displays that bend, it is unclear whether the finished smartphones themselves will be flexible or rigid, similar to the impliable designs used in television sets from both companies.
Samsung's smartphone will launch in October, while LG's will come slightly later, in November. Apple's iWatch is not expected to debut before late 2014.