Digitimes reports that Apple and other handheld device vendors are making plans to begin releasing devices featuring curved glass in the first half of next year.
Suppliers of the non-Apple camp are working on products with curved cover glass in attempts to gain a competitive edge in the handheld device market dominated by Apple, sources in the glass industry said.

But Apple reportedly also has bought glass polishing equipment for its suppliers in preparation for the production of devices fitted with curved cover glass. Lens Technology, Fuji Crystal, G-Tech are said to be major cover glass suppliers of Apple. While Lens and Fuji focus on iPhones, G-Tech supplies mainly for iPad.
The publication reported similar claims of curved glass for the iPhone 5 back in May, but those claims have not borne out in either the iPhone 4-like "iPhone 4S" design or the redesigned iPhone 5 seen with a tapered form factor in third-party cases.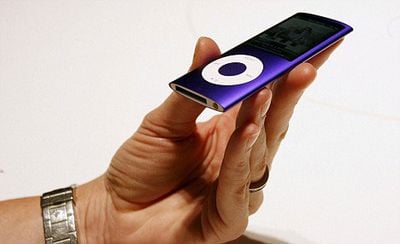 Fourth-generation iPod nano with curved glass (Source: Mail Online)
The reported timeframe of the first half of next year cited in the new report leads to questions about exactly which product line would adopt the curved glass. The iPad 3 is certainly expected to be introduced within that window, but it is unclear if the next iPhone would also make its debut before the end of June considering the apparent October introduction of the iPhone 4S/5.