Design Drawings Purportedly Show Exact Dimensions of Smaller, Thinner iPad 5
Rumors of a narrower and thinner design for the fifth-generation iPad have been circulating for a number of months now, with Apple reportedly taking some design cues from the iPad mini in redesigning the full-size iPad with narrower side bezels, a thinner shell, and more rounded curves.
As long ago as last December, rumors indicated that the new iPad would shave off 4 mm in height, 17 mm in width, and 2 mm in thickness compared to the current design, and based on those rumors and leaked rear shell photos, we created renderings of what the device might look like fully assembled. A number of photo leaks of the rear shell and front panel of the device have continued to support the claims of the iPad mini-inspired redesign.
A case maker's design drawings have now been provided to AppleInsider showing the expected exact dimensions of the fifth-generation iPad. According to the drawings, the next iPad will measure 7.5 mm thick, a full 2 mm thinner than the current iPad and 0.3 mm thicker than the iPad mini.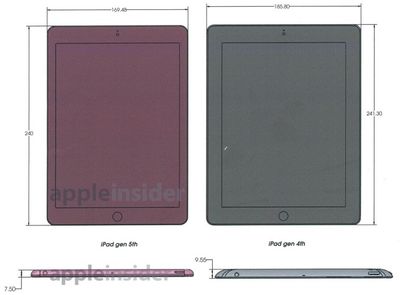 The new iPad will only shave a little more than 1 mm off of the height of the current iPad, but the much narrower side bezels will reduce the width of the device by over 16 mm or nearly 9%.
Similar design drawings surfaced for the iPhone 5s and iPhone 5c, and while they were nearly spot on in several of their measurements, it should be noted that those drawing had pegged the iPhone 5c as being 8.5 mm thick while the official thickness according to Apple is 8.97 mm, indicating that these design drawings are not always perfect.