Design Drawings Reveal Case Makers' Expectations for iPhone 5S and Lower-Cost iPhone
Following yesterday's photos of a case said to be based on the expected design for Apple's lower-cost iPhone, AppleInsider now shares design drawings from a case maker showing expectations for the exact dimensions and profiles of the both the lower-cost iPhone and the iPhone 5S.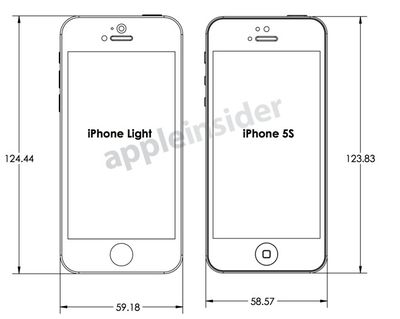 Unsurprisingly, the dimensions of the iPhone 5S are nearly identical to those of the iPhone 5, with case makers also apparently expecting the same layout and size of the physical features.
The lower-cost iPhone, which is rumored to be adopting a plastic shell that will requires a slightly larger body than the iPhone 5/5S, is expected to be approximately 0.6 mm taller, 0.6 mm wider, and 0.8 mm thicker than the current design. The drawings also show rounded rear edges that have been rumored since a January report from iLounge. That report also offered similar claims of the relative dimensions for the device compared to the iPhone 5.


The new design drawings also appear to show the exact same set of physical features as described by iLounge, including pill-shaped side buttons rather than the round ones seen on the iPhone 5, as well as a bottom edge reminiscent of the iPod touch with four holes for the speaker rather than the larger grille seen on the iPhone 5. The lower-cost iPhone would also include a pair of screw holes, one on each side of the Lightning connector, and a single microphone hole located very close to the device's headphone jack.


Case makers have on a number of occasions offered accurate pictures of upcoming Apple product designs, although they have also been incorrect at times, most notably with the 2011 tapered iPhone design.
Both the iPhone 5S and the lower-cost iPhone are expected to debut later this year, with September being the most popular rumored timeframe.