iPhone 5s Shipping Estimates Slip to October
Apple appears to have sold out of its iPhone 5s stock, with shipping estimates for all models in the United States slipping from 7–10 days to an ambiguous "October" ship date. The phone, which went on sale yesterday, saw shipping times of 1–3 days for the first four hours that it was available before estimates dropped to a seven to 10 day ship time.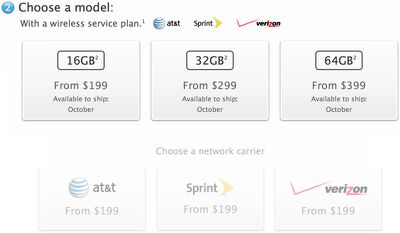 Shipping estimates for online orders of the phone opened at 7–10 days in a number of countries, indicating significant stock shortages. Apple saw high demand for its gold iPhone 5s, which sold out within 28 minutes after launch in the United States. Both gold and silver iPhones were available in very limited quantities from Apple and other third-party retailers, while stock of the space gray phone appeared to be more widely available.
According to an Apple representative, the company saw incredible demand for the new phone, and a report from The Wall Street Journal suggests Apple has already asked its supply chain to increase production of the gold iPhone 5s in particular.
Currently, all colors and capacities of the iPhone 5s from all U.S. carriers display a shipping estimate of October. The same is true for the rest of the world, with online Apple Stores in Australia, Canada, China, France, Germany, Japan, Singapore, and the U.K. displaying identical October estimates.
iPhone 5c supplies remain plentiful, with all colors and capacities available to ship within 24 hours.