Live Coverage of Apple's 2013 iPhone Media Event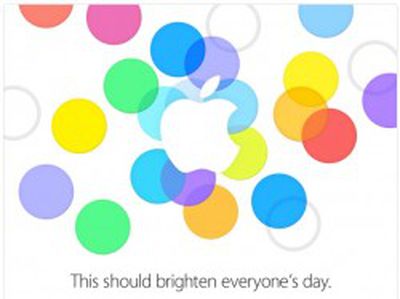 Apple's highly anticipated September media event is being held today in Town Hall auditorium at the company's headquarters in Cupertino, California. The event begins at 10:00 AM Pacific Time / 1:00 PM Eastern Time, and Apple is expected to unveil new iPhone 5S and iPhone 5C models while also providing a final overview of iOS 7 before the redesigned operating system launches to the public.
Unlike the past several Apple media events and keynotes, it does not appear that the company will be offering a live video stream of today's event. Prior to other recent events, an "Apple Events" channel has appeared on the Apple TV and the company has promoted the live streams on its home page, but none of those indicators have appeared so far.
While Apple will apparently not be providing a live video stream, a number of tech sites are on hand for the event and will be posting live blogs: Engadget, Ars Technica, The Verge, TechCrunch, The Loop, Macworld, AllThingsD, CNET, SlashGear.
In addition, we will be updating this article with summary coverage and issuing Twitter updates through our @MacRumorsLive account as the event unfolds. Separate news stories regarding the event announcements will go out through our @MacRumors account.
Apple's online stores around the world are currently down in advance of the event.

Event Transcript in Reverse Chronological Order
11:20 am: Costello takes a bow, shakes Cook's hand and receives standing ovation from the crowd.
11:17 am: Costello is on stage singing and chatting with the crowd.
11:10 am: Musician coming on stage, three decades of work, 29 albums. Elvis Costello.
11:10 am: "We do really love music and celebrating great artists."
11:09 am: "Before we close, we want to return to music."
11:08 am: Showing a number of people in brightly colored spaces using different colored iPhone 5C models in multiple languages.
11:08 am: "We've prepared a few ads", and they're showing one of them.
11:07 am: iOS 7 is the biggest change to iOS since the original iPhone.
11:07 am: "We don't just pack in feature after feature." "We think deeply about experiences we want to create."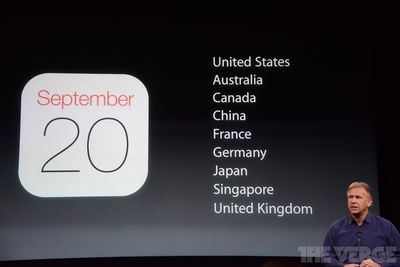 11:06 am
: First time the iPhone will be in China at launch.
11:06 am
: Available in 100 countries on 270 carriers by the end of the year.
11:06 am
: Launching in Japan on Softbank, KDDI and now NTT DoCoMo.
11:06 am
: Available September 20th in US, Australia, China, Canada, France, Germany, Japan, Singapore and the UK.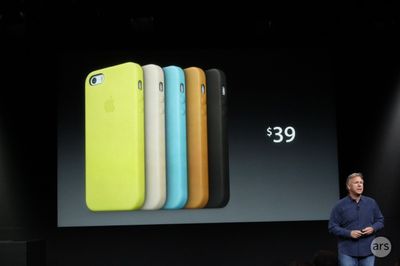 11:05 am
: Available Friday September 13 for preorder, September 20 in stores.
11:05 am
: iPhone 4S still available, 8GB model free with two-year contract.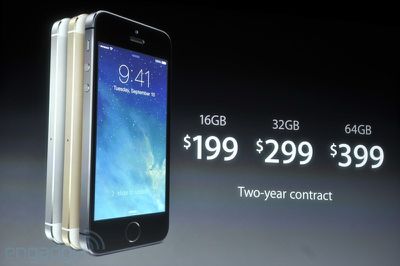 11:05 am
: "Others don't talk about this, but we're going to continue doing so because it's important to us."
11:05 am
: New cases are $39 each, all new products are environmentally friendly.
11:04 am
: iPhone 5S: 16GB for $199, 32GB for $299, 64GB for $399 with two-year contract.
11:03 am
: "Technology is at its best and most empowering when it simply disappears."
11:03 am
: "Fingerprint is never available to other apps, and never uploaded to servers or backed up to iCloud."
11:02 am
: Capacitive touch to read fingerprint, all fingerprints are encrypted.
11:01 am
: According to the video, the demo reads fingerprints pretty quickly from multiple angles. Can handle multiple fingerprints.
11:00 am
: "Every component and process has been considered and measured to make sure it's truly useful and enhances the user experience"
11:00 am
: "It's not just rampant technology for technology's sake"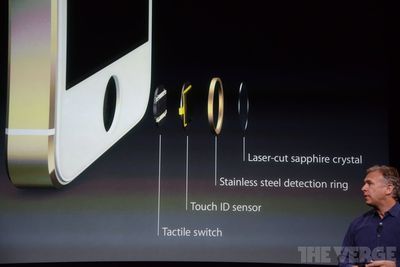 11:00 am
: iPhone 5S video with Jony Ive: "Meticulously designed and crafted."
10:59 am
: Deeply built into iOS 7, can make iTunes and App Store purchases by using finger to authenticate.
10:59 am
: "Can simply touch your home button to unlock your phone."
10:59 am
: Built into new sapphire crystal home button. Ring around the button is a detection ring that turns on the sensor. Button is sapphire to avoid scratching.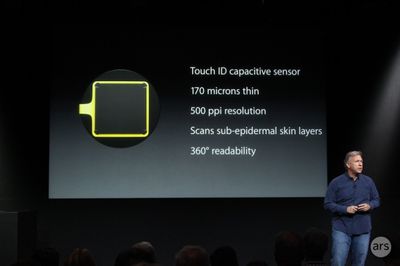 10:58 am
: Sensor is 170 microns, 500ppi resolution, scans sub-epidermal skin layers and can read in any finger orientation.
10:57 am
: "Uses a key you have with you everywhere you go"
10:57 am
: Touch ID coming on iPhone 5S.
10:57 am
: For some people, that's too cumbersome. Half of smartphone users don't bother.
10:57 am
: Most common security feature is a passcode.
10:56 am
: "Third feature is all about security."
10:56 am
: 28 megapixel panoramic shots, exposure adjusted automatically
10:55 am
: Squirrel image returns from prior keynote, with lots of laughter from the audience.
10:54 am
: Videos can be edited to choose which parts are normal speed and which are slo-mo.
10:54 am
: HD video at 720p at 120fps.
10:53 am
: Slow motion supported as well, 120fps.
10:53 am
: Can also keep multiple photos from the burst.
10:53 am
: Phone analyzes all the burst shots and presents which one it thinks will be your pick for best shot.
10:52 am
: "Great for action shots and fidgeting kids."
10:52 am
: Hold down the shutter and will take images for as long as the button is held.
10:52 am
: Takes multiple photos, combines for light levels and then picks the sharpest. New 10 frame per second burst mode.
10:51 am
: Auto-image stabilization
10:51 am
: Apple showing side-by-side images with old flash and new.
10:51 am
: Can combine the two lights to get the right color balance for the room.
10:50 am
: Has two LEDs, one is cool and white, other is warm and amber.
10:50 am
: New 'true tone flash'
10:50 am
: When a photo is taken, it takes multiple photos and picks the best.
10:49 am
: Automatically sets white balance, exposure level, creates dynamic local tone map. Autofocus matrix metering.
10:49 am
: New software in iOS 7 has been designed to "take advantage of this new sensor"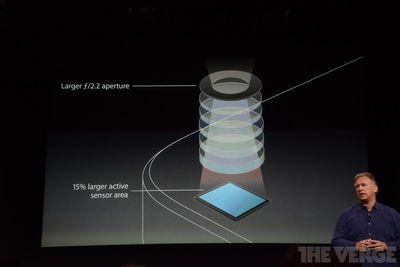 10:48 am
: Bigger pixels = better picture, pixels are 1.5 microns.
10:48 am
: A new five-element Apple-designed lens with F2.2 aperture. 15% larger active sensor area.
10:47 am
: "For most of us, we just want to take a picture."
10:47 am
: New camera: It used to be that to take better pics, you just learned to become a better photographer.
10:47 am
: Battery life, 10 hours 3G talk time, LTE browsing, Wi-FI browsing, video. 8 hours 3G browsing, 40 hours music, 250 hours standby.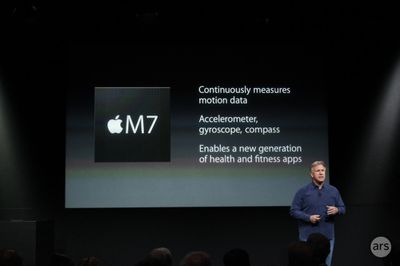 10:46 am
: Can tell if user is stationary, walking, driving. Will measure Nike Fuel movement ratings, integrated into Game Center.
10:46 am
: Nike creating new 'Nike+ Move' app.
10:45 am
: New CoreMotion API in iOS 7, identifies user movement, optimizations based on contextual awareness.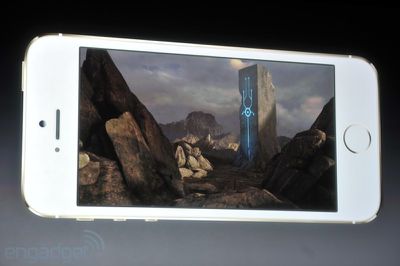 10:45 am
: Continuously measures motion data, accelerometer, gyroscope, compass -- enables a new generation of health and fitness apps.
10:45 am
: New part called the M7, works alongside the A7. "Motion co-processor"
10:44 am
: Infinity Blade III. "Available alongside the new iPhone 5S" on the App Store.
10:42 am
: Demo is running in real time and "nary a lag or stutter" according to The Verge.
10:42 am
: Capable of lens flares that would "make J.J. Abrams proud."
10:41 am
: "Converting games to 64-bit is usually a painful process, but with Apple it took 2 hours."
10:41 am
: 5S has very clear ring around the home button in the slides.
10:41 am
: Play as one of two characters. Runs 5x faster on iPhone 5S than the iPhone 5.
10:41 am
: 8 separate worlds, each world is as big or bigger than the entire first game.
10:40 am
: "I can hardly believe it's been 3 years since we introduced Infinity Blade." Demoing the conclusion of the Infinity Blade Trilogy, Infinity Blade 3
10:39 am
: Epic Games coming on stage to demo.
10:39 am
: OpenGL ES 3.0, up to 56x faster graphics performance than the original iPhone.
10:38 am
: Full Xcode support, backwards compatible. "Benefits are huge." CPU and graphics are twice as fast. CPU is 40x faster than original iPhone, with half coming with jump between A6 and A7.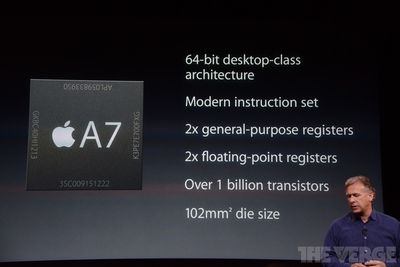 10:38 am
: iOS 7 updated for 64-bit. Native kernel, libraries and drivers, all built-in apps re-engineered.
10:37 am
: Twice as many transistors for same physical space as the A6.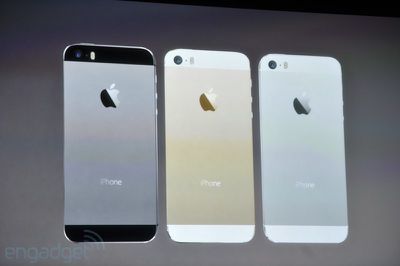 10:36 am
: "I don't think the other guys are even talking about it yet."
10:36 am
: System-on-a-chip A7 64-bit chip, first ever on a smartphone.
10:36 am
: "Huge leap forward in mobile computing performance."
10:36 am
: Officially: Silver, gold and 'space grey'
10:35 am
: "It is the gold standard"
10:35 am
: Double-LED flash.
10:35 am
: Slate, gold and silver color options.
10:34 am
: "Packed with incredible technologies."
10:34 am
: "It's the most forward -thinking phone we've ever created."
10:34 am
: Now to the iPhone 5S.
10:33 am
: "It's quite remarkable when something feels familiar and yet is new at the same time. That's the iPhone 5C."
10:33 am
: Wallpapers match the colors of the device.
10:32 am
: "Offers a dense feel you wouldn't expect from a plastic product.
10:31 am
: Steel frame inside the polycarbonate case doubles as an antenna
10:30 am
: "Took the same care with how the 5C feels in your hand"
10:30 am
: "iPhone 5C is beautifully, unapologetically plastic."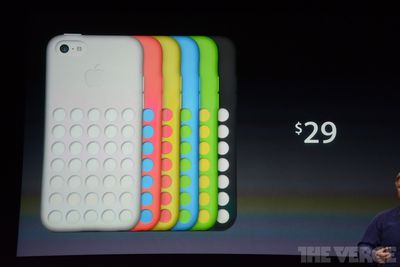 10:29 am
: "We believe the iPhone is an experience"
10:29 am
: iPhone 5C video starring Jony Ive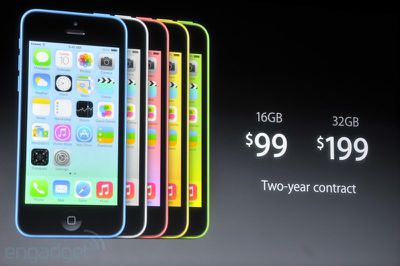 10:29 am
: Cases are $29 each, environmentally friendly. Arsenic, mercury and Android-free!
10:28 am
: 16GB is $99, 32GB is $199 with two-year contract.
10:28 am
: New front-facing FaceTime camera, more LTE bands, dual-band Wi-Fi ABGN, Bluetooth 4.0
10:27 am
: Same 8MP rear camera, hybrid IR filter, five-element lens
10:27 am
: Made from hard-coated polycarbonate, with steel-reinforced inside. 4-inch retina, integrated touch later, widescreen video, full sRGB standard, A6 processor, same as iPhone 5. Slightly larger battery capacity.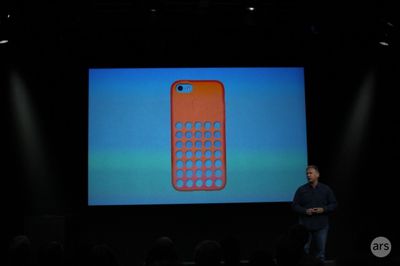 10:26 am
: Circular cut-out patterns on the cases to show off the color underneath.
10:25 am
: Custom cases with soft silicon rubber.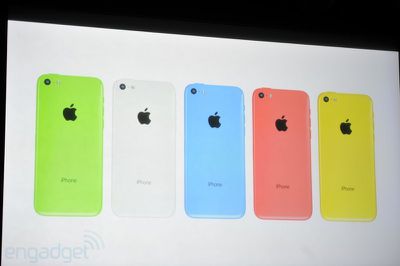 10:24 am
: "But you haven't seen it before, not like this." Green, yellow, blue, white and pink/red.
10:24 am
: Apple now running an iPhone 5C launch video.
10:23 am
: More fun, more colorful. "A few of you may have seen some shots on the web, and that's cool, because everyone is really excited about this."
10:23 am
: "Made with all the incredible tech that customers love with iPhone 5."
10:23 am
: iPhone 5C.
10:22 am
: Phil Schiller coming on stage.
10:22 am
: Two new designs, "allows us to serve even more customers."
10:22 am
: "This year, we're going to replace the iPhone 5."
10:22 am
: "In the past, when we introduced a new iPhone, we lowered the price of the old iPhone. This year, we're not going to do that."
10:22 am
: iPhone 5 had most successful first year of any iPhone Apple has released. Took business "to an entirely different level".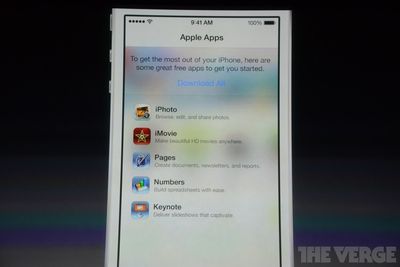 10:21 am
: "A couple of you may be expecting this."
10:21 am
: Onto iPhone.
10:21 am
: "Here are some great free apps to get you started"
10:20 am
: iOS 7 will present you with a screen that lets you download these apps.
10:20 am
: All apps will now be free. iPhoto, iMovie, Pages, Numbers, Keynote.
10:20 am
: iWork is a really key advantage for our customers' productivity. iPhoto and iMovie are great for creativity.
10:19 am
: Keynote, Pages and Numbers. iOS devices are "incredible for creating content".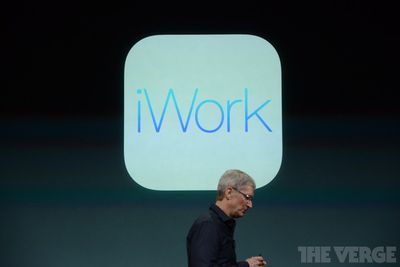 10:18 am
: iWork consists of the best-selling mobile productivity app on any platform.
10:17 am
: On to iWork.
10:17 am
: "Like getting an all new phone that you already know how to use."
10:17 am
: iPhone 4 and later, iPad 2 and later, iPad mini, and iPod touch (5th generation).
10:17 am
: iOS 7 launching Friday September 18th.
10:16 am
: Showing off apps from Zillow, Evernote, OpenTable. "Developer community is hugely inspired" by iOS 7.
10:15 am
: "The best way to experience new music"
10:15 am
: Covering iTunes Radio, launching with iOS 7.
10:14 am
: Now talking about Photos, collections organized based on time and location they were taken. Built-in filters in Camera app.
10:13 am
: System alert sounds updated as well.
10:13 am
: "You may miss a call because you're dancing!"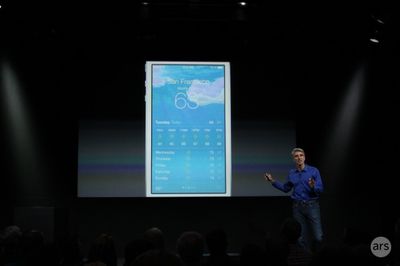 10:12 am
: New ringtones!
10:12 am
: New multitasking view, new Safari, Siri improvements, etc. Moving quickly through iOS 7.
10:11 am
: Laughs for text messages complimenting Federighi's hair.
10:10 am
: Going over the iOS 7 features, new lock screen, control center, parallax effects, new notification center.
10:10 am
: Hundreds of millions will download iOS 7 overnight.
10:09 am
: Apple SVP Craig Federighi now on stage to talk iOS 7.
10:09 am
: "iOS 7 will quickly become the world's most popular operating system."
10:08 am
: Next month, Apple will sell its 700 millionth iOS device. iPhone, iPad, iPod Touch.
10:08 am
: Moving to iOS 7. "We've been hard at work completing iOS 7."
10:08 am
: Talking about US, now. Showing off the new Stanford store, replacing the older, smaller location. Glass on three sides and a cantilevered roof. Store is split into two rooms, one for service and one for retail.
10:06 am
: Now moving onto Apple Retail. "We're expanding our footprint outside the US."
10:06 am
: Cook: "I really encourage you to catch a couple of concerts."
10:05 am
: Video shows iTunes Festival venue being set up, fans rushing in, time lapse events, etc.
10:04 am
: Apple showing off an iTunes Festival video. Concerts on iPhone, iPad, Apple TV, or Mac and PC.
10:03 am
: Livestreaming to 100 different countries, and many available on demand as well.
10:03 am
: Apple doesn't charge for tickets and 20 million people have applied for them.
10:02 am
: iTunes Festival, in its seventh year, showcasing 30 nights of musical performances in London. Elton John, Justin Timberlake, Lady Gaga, Katy Perry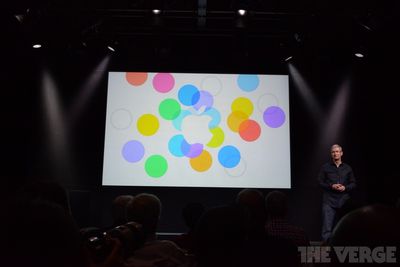 10:02 am
: "We're excited to show you some things we're really proud of", but first Cook is going into some updates.
10:01 am
: "Thank you very much for joining us. A special welcome goes out to those joining us in Beijing and Tokyo."
10:01 am
: Tim Cook is coming on stage.
9:59 am
: The event will be starting momentarily.
9:55 am
: Media are moving into the auditorium and getting situated.
9:06 am
: Photo of media line via TechCrunch