Nuance Developer Email Claims iOS 7 Will Launch September 10
Nuance, the company which powers Siri's speech recognition capabilities, sent an email to developers using its API today claiming the General Availability release of iOS 7 will be delivered on September 10, according to journalist Owen Williams (via TheNextWeb).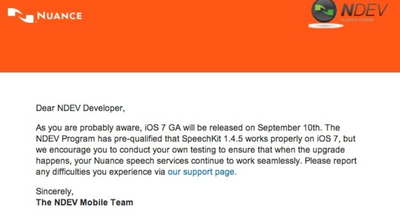 It's unclear how Nuance would get this information, but it's unlikely that a company outside of Apple would have detailed information about Apple's iOS release plans.
Historically, Apple has released iOS Golden Master versions to developers on the same day as the announcement of new iPhones, giving developers time to test their apps with the final version of the new iOS before its release it to the general public a couple of days before the launch of the new iPhone.
Apple will reportedly announce the next-generation iPhone on September 10 and will likely unveil both the iPhone 5S and the lower-cost iPhone 5C. Both devices are rumored to launch in select markets on September 20.