Apple Announces iPhone 5 with 4-Inch Display
As expected, Apple announced the iPhone 5 at today's media event. The latest model of Apple's flagship iOS device features a glass and aluminum enclosure that's 18% thinner than the iPhone 4S and iPhone 4 and weighs in 20% lighter than these previous models at 112 grams. It has a 4-inch 1136 x 640 pixel (326 pixels per inch) Retina Display giving it the same width as the iPhone 4S but a taller form factor.
The display features in-cell technology that was previously rumored that allows the display to be even thinner since the touch sensors are integrated into the display itself instead of requiring a separate layer.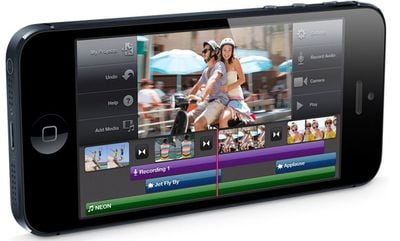 Also as expected, the new iPhone features LTE connectivity using a single chip for voice and data and a dynamic antenna that can switch connections as needed. LTE connectivity will be compatible with all of the major cellular networks in the US plus others in Europe and around the world. The iPhone 5 also gets improved Wi-Fi connectivity with dual-channel 802.11(n) capability.

The new iPhone will have an A6 processor that's twice as fast as the previous A5 processor, and is 22% smaller and more efficient. Regarding battery life, the iPhone 5 will offer 8 hours of 3G or LTE talk time or browsing or 10 hours of Wi-Fi browsing or 225 hours of standby time.
The iPhone 5's rear-facing camera doesn't get a resolution bump, keeping an 8-megapixel sensor, though the sensor is thinner and the lens cover is sapphire crystal. The camera function gets a new dynamic low-light mode and faster photo capture. The front-facing Facetime camera will offer 720p HD video capture with the ability to take photos while recording video.
The iPhone 5 gets an additional microphone, bringing the total to three compared to the two present in the iPhone 4S. The microphones will be located on the bottom, front, and rear of the iPhone 5 to improve voice recognition and noise cancellation. Apple's new EarPods earphones are also included.
The iPhone 5 will come in white or black. The black version will have a black anodized aluminum back while the white version will have a raw aluminum back. The iPhone 5 will cost $199, $299, and $399 respectively for the 16GB, 32GB, and 64GB models with a contract. The iPhone 4S will be reduced to $99 and the iPhone 4 will be free with a contract.
Pre-orders for the iPhone 5 will begin on Friday, September 14 and Apple will begin shipping the new device on September 21 in nine countries including the US and Canada. The iPhone 5 will become available in additional countries next month and in 100 countries by the end of the year.