Apple's Lower-Cost iPhone As a 'Mid-End' Device
AllThingsD shares details on a new report from J.P. Morgan analysts Gokul Hariharan and Mark Moskowitz, who unsurprisingly argue that Apple's rumored lower-cost iPhone will still be a "mid-end" device rather than competing against the true low end of the smartphone market. The analysts point to Apple's previous introductions of the iPod nano and iPad mini as cheaper versions of their parent products that were still significantly more expensive than low-end competitors due to Apple's refusal to sacrifice quality for the sake of price.
Echoing some previous rumors, Hariharan and Moskowitz suggest that Apple's lower-cost iPhone is likely to cost $350-$400 without subsidies, significantly cheaper than the iPhone 5 that starts at $650. The analysts point out that such a device would come in at a relatively sparsely-populated midrange of a pyramid that sees strong unit sales at the top and bottom but weakness in the middle.
Currently Samsung dominates this segment ($200-500 price range) with 35+ percent market share. [...] We believe Apple could take 20-25 percent of this market in the next 12 months (from almost no market share currently), if it prices a lower-priced product at $350-400 levels.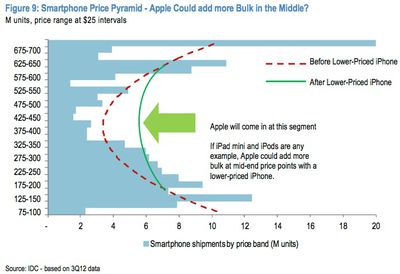 On a separate note, Digitimes is reporting today that Apple's lower-cost iPhone will be specifically targeted at emerging markets and will initially launch in limited volumes in order to test interest in the device. The report claims that Apple is expected to deliver only 2.5-3 million units during the device's first quarter of availability.
While Apple almost certainly has interest in bringing such a device to emerging markets, it seems more likely that Apple will offer the device on a broader basis in order to appeal to consumers in the numerous markets where subsidies are not common. Even the United States is seeing pushback against subsidies to some degree, with prepaid carriers gaining customers while also beginning to offer the iPhone, and even major carriers like T-Mobile shifting their strategies to end packaged subsidies and instead break out phone costs on separate payment plans.