China Mobile Confirms Another Recent Meeting Between Chairman and Apple CEO Tim Cook
Following up a report from earlier this week that Apple CEO Tim Cook had traveled to China, representatives for China Mobile have confirmed to Reuters that its Chairman, Xi Guohua, and Cook had met recently to discuss "matters of cooperation". China Mobile, the world's largest carrier, is the only major Chinese carrier to not have a deal with Apple to distribute the iPhone.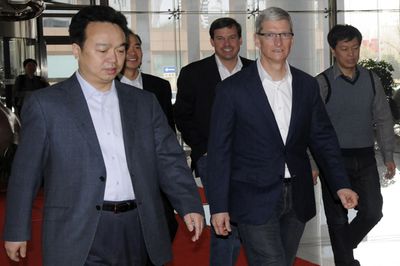 The meeting with China Mobile Chairman Xi Guohua in Beijing was to discuss matters of cooperation, the Chinese firm told Reuters in an emailed statement. It gave no further details.
Prior to this news, it was speculated that Cook may have visited China to discuss the potential for market growth in the region after Apple announced it fell 43 percent from the previous quarter during its quarterly earnings call. Cook is also said to have met with major Chinese carriers during his visit to discuss the impending launch of the heavily rumored low-cost iPhone in the region, potentially named the iPhone 5C. Earlier this year, Cook visited China to also discuss cooperation with China Mobile.
China Mobile and Apple have been reported to be in talks over the iPhone for several years, although no deal as yet been struck. Cook was spotted at China Mobile's headquarters in June 2011, and he visited with executives at the carrier again earlier this year during a trip to China.