Tim Cook Meets with China Mobile to Discuss 'Cooperation', Shares Thoughts on Chinese Markets
As speculated following his arrival in China earlier this week, Apple CEO Tim Cook has met with representatives of China Mobile, the world's largest carrier. Reuters notes that the two sides discussed "cooperation", but no additional information on the status of long-running negotiations over the iPhone have been revealed.
"In the morning, Apple's CEO Tim Cook visited China Mobile's headquarters. China Mobile's Chairman Xi Guohua and Tim Cook discussed matters of cooperation," said Li Jun, a China Mobile spokesman, in an emailed statement. [...]

Talks between Apple and China Mobile have been going on for years and are stuck on revenue sharing terms, analysts said, so it is tough to say if this meeting would break new ground.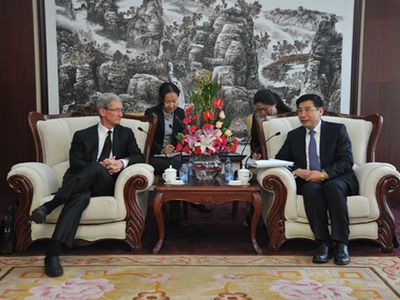 Tim Cook meeting with China's Minister of Industry and Information Technology Miao Wei earlier this week (Source: MIIT)
Cook also sat down with Sina Technology for an
exclusive interview
[
Google translation
] in which he touched on a number of topics. Notably, Cook shared that although this was his second visit to China as CEO of Apple, he has visited China numerous times since 1996 and he has observed tremendous changes over that time.
Cook also highlighted Apple's efforts to raise its profile in China, reiterating plans to grow its retail presence from the current 11 stores in Greater China to at least 25 locations. Apple is also working to speed up the approval process for Apple products in China, moves which would allow product launches in China to occur closer to the first waves that generally include the United States and perhaps 5-10 other countries.
As he has in several other settings, Cook skirted discussion of Apple's plans for the television market, noting that he uses and loves the current Apple TV set-top box but that the market does not yet offer similar potential to the smartphone market. As he usually does when confronted with questions about television, Cook shared only that Apple remains very interested in the market and acknowledged that he can not discuss any future plans for the company.