Closeup Photos of Alleged Lower-Cost Plastic iPhone Rear Shell Compared to iPhone 5
Over the past several weeks, an increasing number of photo leaks of what has been claimed to be the rear shell of Apple's rumored upcoming lower-cost plastic iPhone have surfaced, showing a device just slightly larger than the iPhone 5 and carrying the same layout of physical features, albeit with simplified microphone and speaker grille designs along the bottom edge.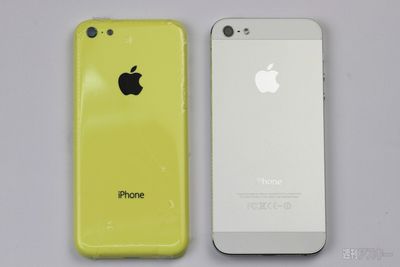 Japanese magazine Weekly ASCII now shares some new closeup photos [Google translation, via Mac Otakara] of a yellow version of this plastic rear shell, showing it in good detail while also placing it alongside an iPhone 5 for comparison. The design continues to show a screw hole layout consistent with leaked iPhone 5S logic boards, suggesting that both the iPhone 5S and the lower-cost iPhone may share very similar logic board designs, at least at a broad level.


There is no confirmation that this rear shell is a genuine one leaked from Apple's supply chain, and the sheer number of photo leaks from various sources suggests that some of these parts may simply be unauthorized replacement parts. Still, these parts are appearing in significant quantities standardized around a common design that is also consistent with long-running rumors of Apple's plans for the device. At a minimum, there is a good chance that these parts offer a good representation of what Apple's lower-cost iPhone will look like.