Possible Photos of Plastic Rear Shell from Apple's Lower-Cost iPhone [Updated]
Nowhereelse.fr shares [Google translation] a pair of photos of what may be the rear shell of Apple's rumored lower-cost plastic iPhone. While the site acknowledges that the part could simply be a Chinese clone of an iPhone 5 rear shell, certain features such as a round rear microphone hole and rounded rear edges are consistent with previous claims for the lower-cost iPhone, including leaked design drawings from a case maker.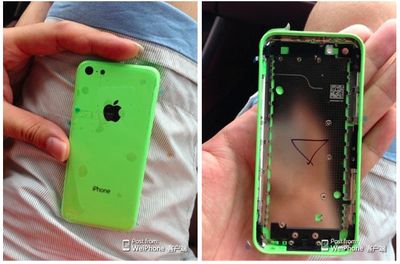 Apple has been said to be planning to release the lower-cost iPhone later this year in an array of colors, with one report claiming that Apple would be using essentially the same colors as found in the company's line of iPhone 4/4S bumpers, although that report indicated that green appeared to have been excluded from the set. This green rear shell is indeed fairly close in color to the green iPhone bumper.
Update 10:03 PM: Nowhereelse.fr has spotted two more photos [Google translation] showing the same part also in yellow and red.