Apple's Low-Cost iPhone Design Said to Be Mix of iPhone 5 and iPod Touch with iPod Classic Curves
iLounge follows up its reports from last week about Apple's future iOS device plans with a new report sharing details on Apple's rumored lower-cost iPhone. According to the report, the new device will indeed be constructed primarily of plastic and offers design similarities to the iPhone 5, iPod touch, and even the iPod classic.
From the front, the new iPhone looks almost identical to the iPhone 5—the same exact shape, with the same sensor, camera, and button arrangement. The 1136 x 640 screen isn't a surprise, but will be a nice step up in specs for the lowest-cost iPhone. Rather than making the display flush with the enclosure, as it was in the plastic iPhone 3G/3GS, the front glass sticks out a little, just as it does with the iPhone 5 and iPod touch. Despite the shift to plastic for the rest of the enclosure, our sources believe that Apple will continue to use Gorilla Glass for this model's screen.

Differences become more obvious when the new iPhone is turned on the side. The circular volume buttons of the iPhone 4, 4S, and 5 will shift to elongated, pill-shaped designs closer to the iPod touch and iPhone 3G/3GS.
The device is reportedly about half a millimeter taller and wider than the iPhone 5, but also about one millimeter thicker.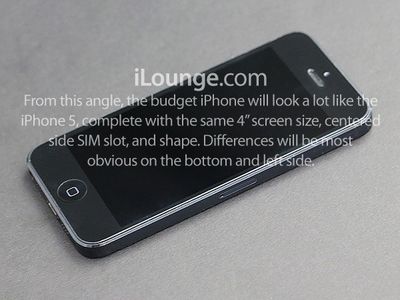 Similarities to the iPod classic are said to arrive in the form of the curves on the rear edges of the device. The report indicates that the sides and rear of the device will all be flat and connected by distinct curves rather than extending the curves all the way through the rear shell of the device.
Unlike the plastic iPhone 3G/3GS, which featured soft curves on all sides, the budget iPhone's curves start and end at flat surfaces, so each side and the back are flat. This seems like a trivial change, until you realize that it allows Apple to use flat rather than curve-matched parts: the right side has a flat, centered SIM card tray just like the iPhone 5's, while all of the buttons and ports are on flat rather than curved surfaces. A flat-backed iPhone won't rock on a flat surface when it vibrates, either.


The rear and bottom edges of the lower-cost iPhone will reportedly be something of a hybrid of the iPhone 5 and the current iPod touch, with a the bottom edge showing a similar layout of features to the iPhone 5 but with fewer holes.
Apple has long been rumored to be working on a lower-cost iPhone, but rumors have accelerated in recent weeks with indications that the company may launch the device later this year.