Tim Cook at D11: Wearables Are 'Incredibly Interesting', Nothing Great on the Market
At this year's annual All Things Digital conference hosted by AllThingsD, Walt Mossberg and Kara Swisher asked Apple CEO Tim Cook about wearable devices, such as Apple's much rumored smart watch, which has been dubbed the "iWatch."
Tim Cook mentioned that he found wearables to be "incredibly interesting" and went on to say that it could be a "profound area." Cook himself is equipped with a Nike Fuelband, but believes that there's nothing "great" on the market, and that wearables are an area "ripe for exploration."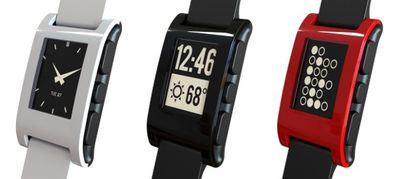 The Pebble smart watch
Of course, when pressed on whether Apple will be developing a wearable device, Cook declined to answer, though he did
hint
that it was an important area of potential development, and that while both glasses and watches had drawbacks, the wrist was "natural."
There's nothing that's going to convince a kid who has never worn glasses or a band or a watch or whatever to wear one. Or at least I haven't seen it. So I think there's lots of things to solve in this space, but it's an area where it's ripe for exploration, it's ripe for us all getting excited about. I think there will be tons of companies playing in this.

I see it as another very key branch of the tree.

I think from a mainstream point of view [glasses] are difficult to see. I think the wrist is interesting. I'm wearing this (Nike Fuelband) on my wrist, it's somewhat natural. But as I said before, I think for something to work here, you first have to convince people it's so incredible that they want to wear it.
With the growing popularity of smart watches like the Pebble, the Jawbone UP, and the Nike Fuelband, rumors about Apple's own smart watch have ramped up in recent months. Most recently, reliable KGI Securities analyst Ming-Chi Kuo predicted that Apple's rumored iWatch will debut in the second half of 2014.
The watch, which will integrate with Apple's existing mobile lineup, is
expected to feature
a 1.5–2.0 inch display.
The New York Times
has suggested that Apple is
experimenting
with curved glass, and according to a February report from
Bloomberg
, Apple
has a team
of 100 product designers working on the smart watch.
MacRumors has full coverage of the interview with more of Tim Cook's comments on the iWatch.