Tim Cook's Plan to Sell More iPhones in Apple Stores Could Be Tough Task
Tim Cook is reportedly trying to sell more iPhones through Apple Stores instead of via carrier partners -- but that could be an uphill task according to an analysis from Consumer Intelligence Research Partners.
In the U.S., Apple has roughly 250 retail stores, compared to more than 10,000 third-party retail outlets that sell the iPhone. In addition to that, Apple's retail stores are extremely busy and it remains to be seen if the company can dramatically ramp up its iPhone sales without hiring more staff or opening more locations.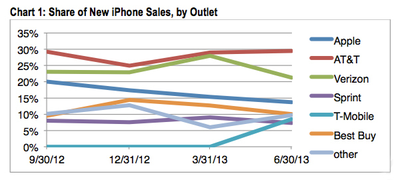 "We don't know, exactly, how Apple can realistically meet Cook's goals," CIRP co-founder Michael Levin told AllThingsD. "However one defines those goals, we can't see how their mostly jammed stores can handle more customers, sales associates and inventory."

[…]

As CIRP observes, when Apple debuts a new iPhone, its stores typically run at capacity — canceling vacations, hiring part-time staff, etc. Pushing the percentage of all iPhones sold through Apple Stores from 20 percent to 50 percent would likely require similar efforts.
One issue for Apple is that many iPhone owners still see Apple Retail Stores as places to get service, not buy a phone. Some research shows 90% of first-time iPhone buyers purchase their phones at carrier retail stores.
In order to jumpstart iPhone sales during the company's important back-to-school season, it has, for the first time, included the iPhone on its list of devices that come with an App Store Gift Card when sold to students. Apple is also rumored to be launching a new in-store smartphone trade-in program.