Early iPhone 5S Shipments May Be Constrained Due to Poor Fingerprint Sensor Yields
In what has become something of a tradition ahead of Apple's product launches, Digitimes is reporting that the iPhone 5S may see constrained supplies at launch due to poor yields of certain components. In this case, the issues are said to be related to chips supporting fingerprint recognition and the device's LCD, according to industry sources.
The fingerprint recognition chip is designed by AuthenTec, of which Apple acquired for US$356 million in July 2012. Issues related to the original design of the chip reportedly caused the lower yield rates, claimed the sources, adding that Apple outsources the production of the fingerprint recognition chips to Taiwan Semiconductor Manufacturing Company (TSMC) and the packaging of the chips to Xintec.
The report also claims that production for the new device was supposed to start in late June or early July, but because of yield problems the ramp-up will be delayed until late July. According to Digitimes' sources, this will result in Apple delaying shipments of three million iPhone 5S into the fourth quarter. Just yesterday, Jefferies analyst Peter Misek had indicated that "small batch production" of the iPhone 5S had begun last month, with mass production ramping up later this month.
In early April, reliable KGI Securities analyst Ming-Chi Kuo reported that production issues would likely "delay" iPhone 5S into September and that Apple's third quarter would see smaller shipment growth than previously expected.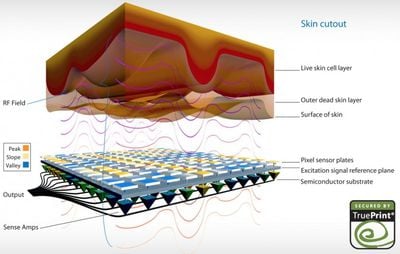 TruePrint fingerprint sensing technology from AuthenTec
Reuters
followed up
with its own report in late April, mirroring Kuo's report claiming that production issues would likely result in delay's for Apple's newest flagship device.
However, at Apple's Q1 2013 earnings call, CEO Tim Cook warned that predicting future Apple business based on certain supply chain data was "impossible" because the company has multiple sources for components to account for varying yields and inconsistent supplier performance.
Apple's iPhone 5S is expected to launch sometime in the fall.