Microsoft Forced to Slash Surface RT Prices Despite Vigorous Anti-iPad Ad Campaign
Microsoft is planning to drop the prices of its Surface RT tablets by $150, reports The Verge. The lower prices, which will go into effect on Sunday July 14, are likely the result of lackluster sales.
Bloomberg reported in March that Microsoft had sold just 1.5 million Surface RT and Surface Pro tablets since they debuted in October of 2012 and February of 2013, respectively, with 400,000 of those sales attributed to the Pro. HP experienced similarly poor sales with its TouchPad, which was heavily discounted and then discontinued.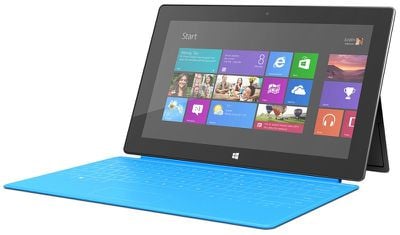 The Surface pricing change comes just after Microsoft announced a restructuring of the company, aiming to enhance collaboration and unify its product lineup. Microsoft has heavily marketed Windows 8 tablets in recent weeks, pitting several different tablets against Apple's iPad in a series of ads that highlight the iPad's inability to multitask and its lack of built-in productivity software.
With the discount, Microsoft's pricing will be as follows:
- Surface RT 32GB: $349.99
- Surface RT 64GB: $449.99
- Surface RT 32GB with Touch Cover: $449.99
- Surface RT 64GB with Touch Cover: $549.99
Staples has confirmed the pricing cut in a weekly promotional ad that says the new pricing will be available as of Sunday. Despite the pricing cuts, Microsoft has suggested that new versions of both the Surface Pro and the Surface RT are in the works, along with a number of new accessories.