Best Buy Seeing HP TouchPad Sell-Through Rate of Under 10%
Apple has continued to dominate the tablet market with the iPad despite a number of high-profile competitors having pushed out their own devices over the past year. Even as some studies have shown Android and other operating systems beginning to eat into Apple's dominant position, most of those studies have been based on shipments into the distribution channels and not sales to end users.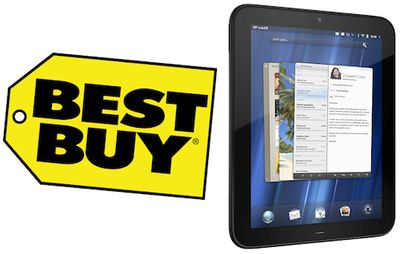 Several reports have indicated that despite shipping hundreds of thousands or even millions of tablets, many of Apple's competitors are not seeing consumer interest in their products and thus the devices are sitting on store shelves and in warehouses and not making their way into users' hands. One of the most telling pieces of data comes in a new report from AllThingsD, which has learned that of the approximately 270,000 units of HP's highly-promoted TouchPad shipped out to Best Buy's distribution channels, only about 25,000 have been sold to customers.
According to one source who's seen internal HP reports, Best Buy has taken delivery of 270,000 TouchPads and has so far managed to sell only 25,000, or less than 10 percent of the units in its inventory.

A second person who has seen Best Buy's TouchPad sales figures confirmed the results as "consistent with what I've seen," and went so far as to say that 25,000 sold might be "charitable." This source suggested that the 25,000-unit sales number may not account for units that consumers return to stores for a refund.
Best Buy is said to be so unhappy with the lack of momentum on TouchPad sales that it has asked HP to take many of the unsold units back, but HP is reportedly "pleading" with Best Buy to remain patient. HP recently slashed $100 off of the price of the TouchPad in attempt to spur sales and is hoping that the move will turn things around, dropping pricing on the entry-level 16 GB model to $399.99. HP's price cut may not be having the desired effect, however, as reports coming in from retailers suggest that consumers are continuing to hold off in hopes that prices drop even further.
For its part, Apple has repeatedly noted that it is selling nearly every iPad it can make, pushing out over 9 million iPads last quarter alone. It was only earlier this month that Apple's online stores dropped their shipping estimates on new iPad 2 orders to "within 24 hours", indicating that Apple has finally caught up with demand five months after launch.