According to two employees (via 9to5Mac) some Best Buy stores in the United States will offer the Pebble smart watch beginning on Sunday.
The product, which carries an in-stock date of July 7th in the store's inventory system, appears to be limited to Best Buy's brick and mortar locations.

Additionally, the inventory system points to an in-stock date of July 7th, which is the upcoming Sunday. Best Buy typically rolls out specials and new products on Sundays, so this date makes sense. However, an in-stock date could also mean that Best Buy stores are scheduled to receive the product on that date, but sales will only begin a few days later.
First introduced via an enormously successful Kickstarter project, the Pebble smart watch features an e-paper display and integrates with a number of iOS apps thanks to an official SDK released earlier this year.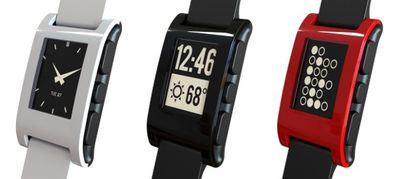 The popularity of Pebble and other similar devices has spurred multiple companies to look into producing their own smart watches. Apple is currently reported to be developing a smart watch called the "iWatch," while Microsoft, Google, and Samsung all have offerings of their own in the works.
The Pebble smart watch, which is available in an array of colors, sells for $150 on the official website. It is likely that Best Buy will offer similar pricing arrangements.
Update: Pebble is now listed as "Coming Soon" on Best Buy's public site.

Update 2: Pebble has officially announced the Best Buy partnership, with black Pebbles becoming available this Sunday, July 7 and red Pebbles appearing next month.