iPhone Compatible 'Pebble' Wristwatch Tallies Nearly $4 Million in Kickstarter Presales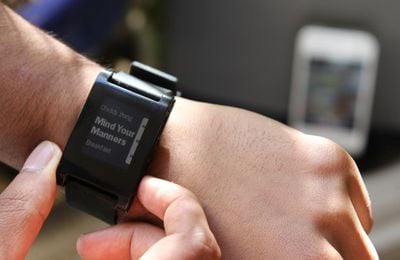 Kickstarter is a popular place for wild ideas to gain some traction, but sometimes an idea clicks with so many people it's possible to wonder why no one thought of it before. Such is the case with the Pebble digital wristwatch.
It uses an e-paper display, similar to the screen on the Amazon Kindle, and connects to the iPhone (and Android devices) via Bluetooth. Pebble uses vibrating alerts to tell the wearer of incoming calls, emails, calendar alerts, Facebook and Twitter messages, weather alerts and more. It also has an extensive SDK for developers and its own "Pebble watchapp store". It will also be waterproof enough to swim with, but it will not be a dive watch.
The company behind the watch even has experience with smart watches. Pebble has been making a BlackBerry-compatible watch called the inPulse, and is a graduate of the Y Combinator startup incubator. It has now received pledges for $3.8 million from 26,500 backers on Kickstarter for a watch that will retail somewhere around $150 when it goes on sale this fall.
An article by Bloomberg notes that Kickstarter wasn't Pebble's first choice for raising funds. He tried to raise money via traditional venture capital firms, but "few investors were interested in betting on a hardware startup, or dealing with the headaches that often come with manufacturing goods." However, Kickstarter seems to have worked out very well. The watch is the most funded Kickstarter project ever.
Pebble told
MacRumors
that it's treating Kickstarter as a discounted pre-order mechanism, and once the funding period closes in a month it will continue taking orders on its website. US buyers can preorder a Jet Black Pebble watch via Kickstarter for $115, while foreign buyers will pay slightly more to cover shipping.
Update: Pebble has now passed the $4 million mark.