Apple's iTunes Radio Terms With Record Labels Revealed
The Wall Street Journal is reporting that Apple sent its iTunes Radio terms to independent record labels last week and the paper was able to review a copy of the contract. It dictates that Apple will pay record labels both in royalties on individual song plays, as well as how much advertising Apple is able to sell.
During iTunes Radio's first year, Apple will pay a label 0.13 cents each time a song is played, as well as 15% of net advertising revenue, proportionate to a given label's share of the music played on iTunes. In the second year, that bumps up to 0.14 cents per listen, plus 19% of ad revenue.
That's compared to the 0.12 cents -- $0.0012 -- that Pandora pays labels per play, although the paper says Apple will be paying publishers more than twice as much in royalties than Pandora. For streaming music, publishers and record labels are paid independently.
There are also restrictions in place that allow Apple to not pay royalties. Some song plays are unpaid if they are already in a listener's iTunes library or part of an album they own, tracks selected by iTunes for special promotion, or if listeners skip a song before the 20 second mark. However, Apple can only avoid royalties for two songs per hour per user.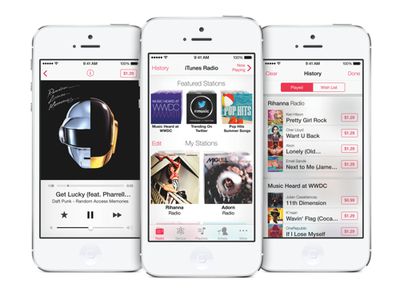 And while these terms were sent out to independent music labels, the WSJ claims they are similar to the terms major labels like Universal Music Group and Warner Music have signed.
Apple doesn't expect iTunes Radio to generate much ad revenue, but hopes it will drive iTunes sales and help sell more iPhones, iPods and other Apple hardware. The company does hope it can help grow the iAd mobile advertising platform.
Finally, the paper says the terms include "several references to terms for the use of music in talk, weather, sports and news programming" on iTunes Radio and that Apple wouldn't have to pay royalties on music snippets used in those types of programming.
The WSJ believes it is "unlikely Apple will invest much in creating such programming, given that it has long shied from creating its own content".
The details offer a look into the terms long debated in the negotiation process between Apple and music labels. Apple reportedly agreed to higher royalty rates in early April, and then signed deals with the major labels in time to announce the new service at the Worldwide Developers Conference in early June.