Pegatron Chairman Says Lower-Cost iPhone Will Not Be Cheap
Last month, J.P. Morgan analysts made their case for why Apple will position its rumored lower-cost iPhone as a "mid-end" device priced in the range of $350-$400 without subsidies, addressing a relatively sparse segment of the market while still maintaining the ability to offer a quality user experience.
Mac Otakara now points to a pair of reports from the China Times including claims from Pegatron chairman T.H. Tung supporting that notion. Pegatron has been said to be the primary assembler for the lower-cost iPhone, with Foxconn focused on the iPhone 5S.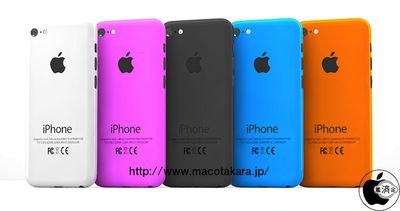 Rendering of lower-cost iPhone in colors from iPhone 4 bumpers (Source: Mac Otakara)
According to the
first report
[
Google translation
] from the
China Times
, Tung addressed the iPhone at a meeting of the company's shareholders, expressing his displeasure with reports referring to the lower-cost iPhone as "cheap" and noting that the "price is still high". Tung apparently believes that attaching the "cheap" description to the lower-cost iPhone gives the impression of a low-value feature phone rather than the full-featured smartphone it will actually be.
A second report [Google translation] quotes Tung as saying that Pegatron's factories remain busy with nonstop production. The company has been reported to be undertaking a significant expansion of its workforce for the second half of this year, presumably to support production of the lower-cost iPhone. China Times indicates that Pegatron is ramping up for shipments of 13-15 million units of the device during the third quarter.
Apple's lower-cost iPhone is expected to launch around the same time as the iPhone 5S, with September being the most commonly cited timeframe. The lower-cost iPhone is said to be very similar to the iPhone 5/5S but with a slightly thicker plastic shell that will be available in a number of colors.