WWDC 2013 Keynote Live Video Stream Available via Apple's Website
A short time ago, Apple brought back its "Apple Events" channel for Apple TV, confirming that it will be offering live video streaming of today's media event. Apple has now updated its site to promote a live stream available online, making the broadcast available to a much broader audience.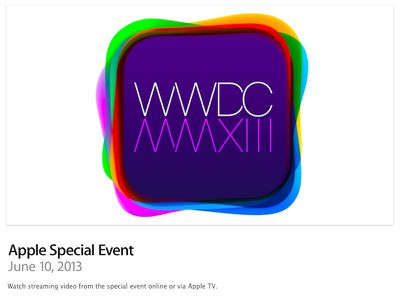 The teaser text on Apple's main page reads: "View streaming video from today's big event starting at 10 a.m. PDT."
The video stream requires Safari 4 or later on a minimum of Mac OS X Snow Leopard, or iOS 4.2 or later for those accessing the stream from a mobile device. Streaming via Apple TV requires second- or third-generation Apple TV with a minimum of software version 5.0.2.
Apple's event kicks off at 10:00 AM Pacific Time, and MacRumors will have full coverage of the event's announcements.
Update 5:34 AM: Apple has also issued a press release announcing the live video stream.