Apple to Stream Live Video of WWDC 2013 Keynote to Apple TV
With just hours to go before today's keynote at Apple's Worldwide Developers Conference kicks off, the company has brought back its "Apple Events" channel on the Apple TV, indicating that it will be streaming live video of the event.
A similar channel appeared before Apple's iPad mini media event last October, and the company later revealed that it would also be streaming the event through its website. Apple has, however, yet to confirm that it will be streaming the WWDC 2013 keynote through its website.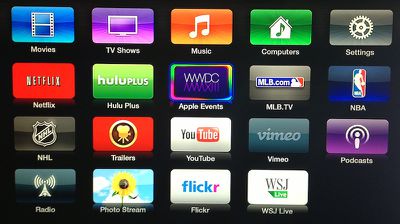 As with the previous incarnation of the Apple Events channel, users can also watch videos of previous Apple events and keynotes.


Apple has on occasion offered live video streams of its events, but before last October's iPad mini event the previous time had been the company's "Back to the Mac" event in October 2010.
Apple's keynote kicks off at 10:00 AM Pacific Time, and MacRumors will have full coverage of the event.
Update 5:09 AM: Apple will also be streaming the keynote through its website.