Google Announces 'Google Play Music All Access' Subscription Service
Google today officially announced its new music subscription service, Google Play Music All Access, at the Google I/O conference in San Francisco. As reported yesterday afternoon, the service is designed to compete with Spotify, providing songs on demand that can be streamed to a computer or mobile device.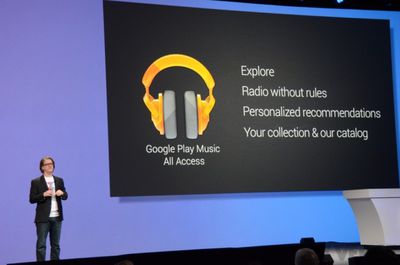 The service, which is built on Google's existing Google Play Music Store, will cost $9.99 per month with a 30-day free trial available. Google is, however, offering a discount for early adopters. Those who begin the free trial by June 30 will pay just $7.99 per month. The Verge has a rundown on a few of the available features for music discovery and recommendations.
A recommendation engine will guide users towards new music they may have already discovered. As demoed on an Android device — it also works in a standard web browser — All Access incorporates both local tracks and those available for streaming into one master searchable library, a marked improvement over much of its streaming competition.
Google's tagline for Google Play Music All Access is "Radio without Rules," a small jab at Apple's upcoming Pandora-style music service, iRadio. As of last week, Apple was still in negotiations with music labels but is reportedly aiming for a summer launch of its own music subscription service.