Mass Production of Retina Displays for iPad Mini Expected to Start in June or July
Following a somewhat confusing report earlier this week in which NPD DisplaySearch analysts first indicated that a Retina iPad mini would not appear until the first quarter of 2014 before quickly issuing a correction stating that a third quarter refresh would bring the Retina display to the line, the firm has now told CNET that production on those Retina display panels should begin in June or July.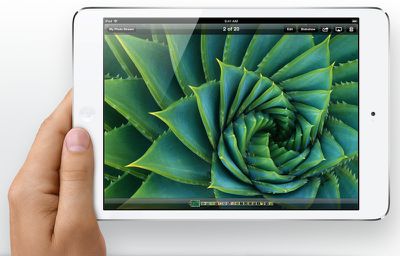 The timing would not be a tremendous surprise given that the firm just said that the device should begin shipping in the July-September quarter, although other sources have indicated that it may not appear until somewhat later in the year. DisplaySearch's Richard Shim also claims that current iPad mini display supplier LG Display will maintain a prominent role in production of the new Retina displays, and that Samsung will remain out of the display supply picture.
"We should see the start of mass production of the panels in June or July," said Richard Shim, an analyst at NPD DisplaySearch.

LG Display will be one of the major manufacturers of the display, he said, adding that Samsung is not a supplier for the Mini.

"Samsung is currently not in the iPad Mini and they won't be in the next generation. LGD is becoming a much bigger supplier than before," he said.
LG is reportedly the main supplier for display panels in the current iPad mini, with AU Optronics also responsible for a significant portion of the supply.
Also unsurprising is Shim's claim that the Retina iPad mini will adopt the same 2048 x 1536 resolution seen on the full-size iPad's Retina display, albeit at a higher pixel density to fit the iPad mini's smaller physical size. Maintaining consistent resolution across the iPad lineup allows developers to target a single screen size with their apps, simplifying their work.
On last month's earnings conference call, Apple CEO Tim Cook appeared to specifically temper new product expectations for the next several months, mentioning that Apple had a number of great products coming "in the fall and across all of 2014."