Apple Online Store Now Offering Refurbished Current-Generation 27-Inch iMac Models
Apple today began offering refurbished models of the current-generation 27-inch iMac for the first time, roughly four months after the models initially launched.
The two stock configurations of the 27-inch iMac are currently available at 15% discounts compared to brand-new units, with the low-end refurbished model priced at $1529 vs. $1799 new and the high-end refurbished model priced at $1699 vs. $1999 new. Several higher-priced custom configurations are also currently available as refurbished units, with all refurbished models listed as shipping in 1-3 business days.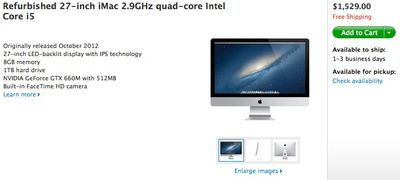 The addition of refurbished 27-inch models comes nearly two months after Apple began offering refurbished 21.5-inch models, with supplies having remained tight for a number of months due to issues related to the thinner design of the new iMac. Apple is using a new lamination process for the display to achieve a thinner and more vivid screen, and that process reportedly was resulting in low yields, particularly for the larger 27-inch models.
Availability of the new iMacs improved markedly in early March, with shipping estimates for new orders of all stock configurations improving to "within 24 hours" at that time.