Apple Online Store Offering Refurbished Current-Generation 21" iMac, Shipping in 1-3 Days
Apple has added refurbished models of the current-generation 21.5" iMac to its Online Store in the past several days, offering a faster-shipping alternative to customers looking to get a desktop Mac.
New iMac models on the Apple Online Store list a lead time of several weeks to get delivered, while the refurbished models claim to ship in 1-3 days, with $200 and $230 discounts on the low- and high-end 21" models respectively.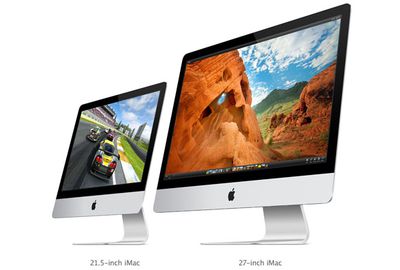 Apple Retail Stores list mid-March as the earliest time to pick up new 21" iMacs ordered online, but Amazon.com claims to have both 21" models in stock [$1,299 and $1,494] and eligible for Amazon Prime shipping.
Ship times on the 21.5" iMac rose to 2-3 weeks back in January, and have not improved since then. Tim Cook mentioned on Apple's earnings call in January that the company would increase iMac supply this quarter, but may not get to supply/demand balance.
27" iMac models have yet to appear on the refurbished store, with the company reporting a 3-4 week lead time online and late March for in-store pickup. Amazon has the base 27" model in stock for $1,799.