Yields of 27-Inch iMac Displays Expected to Improve Next Month
Apple's 27-inch iMac continues to be in short supply, with Apple quoting 3-4 week shipping estimates for new online orders, compared to shorter but still substantial 7-10 day estimates for the smaller 21.5-inch models. Even before launch, the new iMac was projected to be in short supply into 2013, due in large part to issues with Apple's new display assembly process that includes laminating the display directly to the machine's cover glass.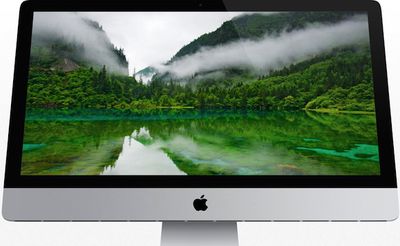 Digitimes now reports that the display lamination issue is still a problem for Apple supplier LG Display, with the larger 27-inch panels seeing lower yields than the 21.5 inch displays.
LG Display has reportedly been facing full lamination issues while producing the panels, slowing down shipments of the 27-inch device to 100,000 units a month, added the sources.

LG Display, however, has secured strong yields for Apple's new 21.5-inch model, which currently has reached monthly shipments of 300,000-400,000 units, noted the sources.
The report does claim, however, that LG is moving toward better yields of the larger displays, with greater availability set to come next month. The improved yields should reduce what appears to be the main bottleneck in iMac production, thus leading to greater availability and shorter shipping estimates for new orders.
Apple's redesigned iMac is considerably thinner than its predecessor and contains 40% less volume, changes that have been enabled by a number of technological advancements such as the lamination to create thinner and more vibrant displays and the use of advanced welding techniques. Those advancements have not come without challenges, however, as seen with the displays holding back production on the larger iMac models.