Apple Launching New Final Cut Pro X Marketing Push to Win Back Professionals
Back in June 2011, Apple launched Final Cut Pro X, a complete reworking of the company's video editing software aimed at professional users, but the new software was met with significant criticism over missing features. Professional users in particular were upset over what seemed to be a "dumbing down" of Final Cut Pro in order to reach more mainstream users.
Apple responded to the controversy by offering refunds to dissatisfied customers and promising updates to improve Final Cut Pro X, and a number of those updates have been delivered over the past 21 months.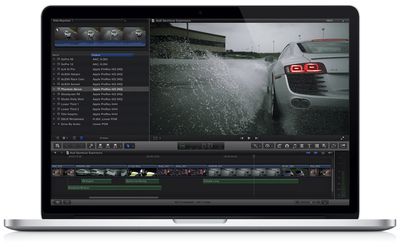 The Los Angeles Times now reports that Apple is launching a new marketing campaign today intended to try to win back some of the professional users who may have abandoned the platform.
Now, after updating the software seven times since its release in 2011, Apple is launching a campaign Thursday aimed at winning back skeptical professional users.

That campaign, timed to coincide with the National Assn. of Broadcasters convention that starts April 6 in Las Vegas, will feature users like Julian Liurette, who followed the firestorm from his video editing desk in Toronto at the Globe and Mail newspaper.

After waiting a year as Apple gradually released updates, Liurette finally gave it a try and was surprised. So Liurette began moving the newspaper's video operations from the old version to Final Cut Pro X.
The campaign will also feature Hong Kong cinema icon Tsui Hark and Mexican television conglomerate TV Azteca.
The report notes that Apple has won points for its FAQ posted soon after launch outlining the company's improvement plans, as well as for a free trial offer for Final Pro X, but that many users remain skeptical of Apple's commitment to professional customers. But with professionals becoming increasingly uneasy about the future of Apple's main competitor Avid and concerned over how long Final Cut Pro 7 will remain supported, Apple is hoping that they will take a fresh look at Final Cut Pro X.
Update 11:42 AM: Apple's new features on Tsui Hark and The Globe and Mail have gone live on Apple's "In Action" page, but we haven't yet spotted a feature on TV Azteca.