Apple Issuing Refunds for Final Cut Pro X Upon Request
While Apple may be working to quickly add new and restored features to Final Cut Pro X, EOSHD reports (via The Next Web) that Apple has begun issuing refunds to at least some customers complaining through the company's customer service channels.
Here is an example of one such email a disappointed pro received from Apple:

"Moving forward, I understand that you are not satisfied with the app "Final Cut Pro". I can certainly appreciate you would like a refund, and I would be more than happy to help you out with this today. In five to seven business days, a credit of £179.99 should be posted to the credit card that appears on the receipt for that purchase.

Please note that this is a one time exception because the iTunes Terms and Conditions state that all sales are final."
A thread in Apple's discussion forums reveals a number of other users who have successfully received refunds for their Final Cut Pro X purchases, although some customers have had to make several requests as part of their conversations with Apple support staff before being granted refunds.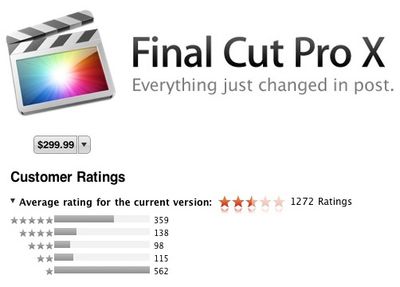 Apple does not have a blanket return and refund policy for App Store applications, although the company has reportedly been required by law to offer one in Taiwan. Apple does offer refunds on a case-by-case basis, however, with customers having reported success gaining refunds for accidental purchases and other extenuating circumstances.