Tweaked Apple TV Contains Die-Shrunk A5 Chip, Not A5X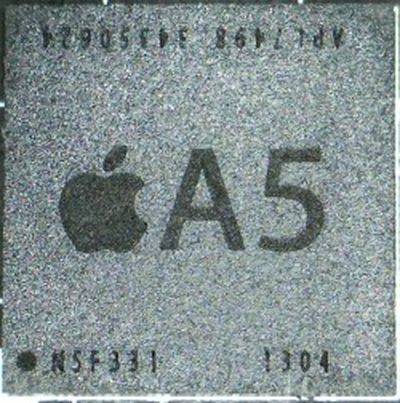 Back in late January, an update to the Apple TV software revealed a new "AppleTV3,2", with FCC documents for the device showing up the following day. By digging into the software files for this new device, it was discovered that the device appeared to be using an A5X chip rather than the single-core A5 chip found in the third-generation Apple TV.
This conclusion was based on the chip carrying an identifier of S5L8947 compared to the S5L8945 seen on the original A5X. A similar move was made when Apple rolled out a die shrink of the A5 in the third-generation Apple TV last year, shifting from the original S5L8940 to the smaller S5L8942.
According to Apple, this latest Apple TV update was designed to be invisible to users, offering no changes in features.
Apple's tweaked third-generation Apple TV, which carries a part number of A1469 compared to an A1427 part number for the original version, has now begun making its way into Apple's retail store stocks, and we have purchased one and cracked it open to examine its internals.
Most notably, the tweaked third-generation Apple TV does not contain an A5X chip. Instead, it contains an A5 chip like its predecessor, although the new chip is considerably smaller than the previous one.


The original A5 chip introduced in 2011 for the iPad 2 was built on a 45-nanometer process, measuring 10.09 mm by 12.15 mm, while the first die-shrunk A5 introduced in 2012 for the third-generation Apple TV and the tweaked iPad 2 measured 41% smaller at 8.19 mm by 8.68 mm.
This new A5 found in the tweaked third-generation Apple TV is considerably smaller still, with our measurements putting the chip at just 6 mm by 6 mm.
We do not know for sure what Apple is using to produce this even smaller A5, but it is very possible that the company is piloting a 28-nanometer process from Taiwan Semiconductor Manufacturing Company (TSMC) for this new chip. Such a move would be a major development, making this A5 the first iOS device processor to be manufactured by a company other than Samsung. Samsung is also moving to a 28-nanometer process for its fab in Austin, Texas where it produces chips for Apple, but the facility will reportedly not be ready for mass production at that scale until late this year.
TSMC has been rumored to be coming on board for A6X chip production for the current iPad, as well as for future chips using even smaller processes.