Apple Updates Apple TV with Up Next and Bluetooth Keyboard, New 'AppleTV3,2' Model Revealed
Alongside today's release of iOS 6.1, Apple also issued an update for the Apple TV. The new 5.2 software update includes a number of enhancements including direct iTunes in the Cloud music streaming, Bluetooth keyboard support, Up Next support, and more.
- iTunes in the Cloud: Browse and play your purchased iTunes music directly from iCloud.
- Bluetooth keyboard: Use your Apple Wireless Keyboard to control your Apple TV. See this article for more information.
- AirPlay audio for videos: Send stereo audio from movies, TV shows, and other videos on Apple TV to AirPlay-enabled speakers and devices (including AirPort Express and other Apple TVs).
- Stability and performance: Includes performance and stability improvements with the iTunes Store, AirPlay, Netflix, iTunes Match, and wired Ethernet connections.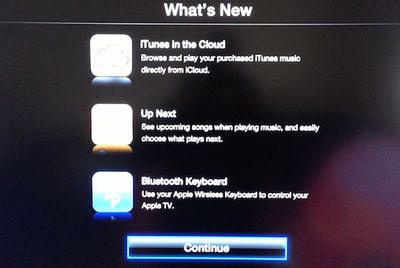 Curiously, Apple has released three versions of the Apple TV update, covering not only the second-generation (AppleTV2,1) and third-generation (AppleTV3,1) boxes but also a new AppleTV3,2 box. It is unclear exactly what the difference is with the new box, but the numbering scheme suggests that it is a relatively minor change.

Three versions of Apple TV 5.2 update (Source: e-lite.org)
KGI Securities analyst Ming-Chi Kuo
noted
earlier this month that Apple was preparing to launch an updated Apple TV this quarter, although it was anticipated to be a minor upgrade. Apple has not, however, made any public announcements regarding an updated Apple TV.
Update: Apple appears to be referring to the new Apple TV model with a code name of J33I, compared to the J33 code name used on the third-generation Apple TV. While we have no direct evidence, it is possible that the "I" simply refers to an international variation of the current box. Just last month, Apple launched iTunes movies in nearly four dozen new countries.