New Apple TV Has A5X Chip and Single WLAN + Bluetooth Antenna
AnandTech has found that new Apple TV will use the same WLAN+Bluetooth antenna/chip combo that the iPhone 5 uses as well as an A5X processor rather than the A5.
The unreleased Apple TV revision was first suggested by an iOS 6.1 firmware release for a previously unseen AppleTV3,2 model. Then, a new FCC application revealed that the new Apple TV would have slightly smaller dimensions than the currently shipping model.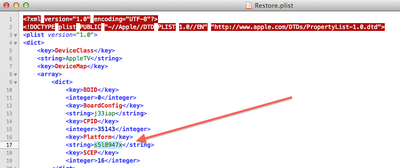 AnandTech writes:
Instead of the A5R2 SoC (S5L8942) inside the Apple TV 3,1, this new device contains an A5X SoC (S5L8947) as shown in the screenshots I've taken of the Restore.plist file, though there are numerous others. It's entirely possible that Apple is again using different bins of the A5X, it's not possible to tell whether CPU or GPU cores are fused off at this point from my digging through the IPSW.
The A5X chip (with Quad-Core graphics) was originally introduced to power the new Retina Display screen of the iPad 3.
It was in the current Apple TV that Apple first used the 32-nm (die shrunk) A5 chip. It was believed at the time that Apple had used the Apple TV has a test platform to start ramping up that new 32-nm A5 processor before they started using it more broadly to power the still-for-sale iPad 2.
It seems likely that Apple will follow the same pattern with this new A5X -- first ramp up production in the Apple TV, and later extend its use to the new iPad mini. The next iPad mini is believed to include a Retina display. Apple will need to upgrade the iPad mini's CPU/GPU in order to be able to accommodate the extra pixels of such a display.