Apple TV's A5 Chip Includes Surprise Die Shrink to 32nm [Updated: Same Chip Found in iPad 2]
While the new 1080p-capable Apple TV has been available for nearly a month, Chipworks has now gotten around to tearing down the device's custom A5 system-on-a-chip, discovering with some surprise that the chip is actually a new design from Apple using a die shrink from the 45-nm process used in the A5 of the iPhone 4S to a new 32-nm process. The teardown also reveals what many had suspected: that the "single-core" A5 advertised by Apple for the new Apple TV is actually a standard dual-core chip with one of its cores disabled.
The new A5 processor die is not a single core processor, but contains a dual core processor. Either Apple is only utilizing one core or they are binning parts. Parts binning is a common process in semiconductors where devices are segregated (binned) based on meeting a subset of the overall requirements, in this case they could disable the "bad" core, this increases the usable die per wafer, lowering the cost.
As for the die shrink on the Apple TV's A5, the development raises question about why Apple made the investment in such changes to the A5 for a relatively low volume device like the Apple TV. Despite the benefits of a die shrink, the cost of implementing it for the Apple TV alone would not be inconsequential.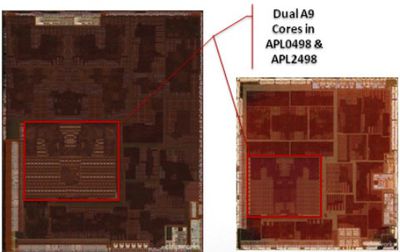 Dual ARM cores from iPhone 4S A5 chip (left) and Apple TV A5 chip (right)
The new A5 measures nearly 41% smaller than its predecessor, coming in at 69.6 mm². Process shrinking not only reduce costs by fitting more dies on a wafer, but it also improves performance and lowers power consumption. This is a very complex chip for a relatively low volume part (for Apple); one would think they have greater plans for this new A5 variant.
Even the A5X used in the new iPad is manufactured using 45-nm processes, making the Apple TV the company's first iOS device to move to the smaller and more efficient 32-nm process.
Update: Chipworks has now updated its report to note that the 32-nm A5 is also showing up in the latest models of the iPad 2. The observation makes it clear that Apple is using the lower-volume models as a testing ground for the more efficient 32-nm processes, with fully-functional dual-core chips landing in the iPad 2 while the Apple TV receives single-core chips with either one core intentionally disabled or one defective core.