Next-Generation iPads Due in April, iPhone 5S in August?
Following today's research report from KGI Securities analyst Ming-Chi Kuo suggesting that the iPhone 5S could launch in July with a fingerprint sensor, Rene Ritchie at iMore confirms that the iPhone 5S will be unveiled during the summer, but targets an August release date.
Apple has previously launched phones in June through October, with the iPhone 4S released in October and the iPhone 5 released in September.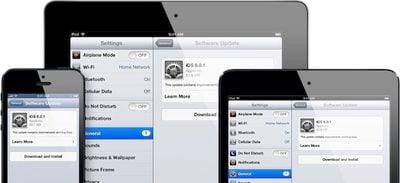 According to Ritchie, the upcoming iPhone 5S will be similar to the iPhone 4S, improving the internals of the phone while leaving the outer casing untouched.
Sources familiar with the plans have told iMore that the iPhone 5S does indeed have the same basic design as the iPhone 5, with a more advanced processor and an improved camera. With the iPhone 5, Apple reduced the thinness of the casing but managed to keep essentially the same, if not slightly better, overall quality.

Given the dimensions, or lack-thereof, that in-and-of itself was a feat of engineering. With the iPhone 5S, the aim is to once again raise the bar in terms of iPhone optics, including a much better camera in essentially the same casing. No huge surprises there, given the past history of S-class iPhones.
iMore is also predicting a possible April launch date for the fifth generation iPad and the second generation iPad mini, which would be in line with the previous spring launch dates for the original iPad, the iPad 2, and the third generation iPad. According to iMore, a casing redesign is expected for the fifth generation iPad, but it remains unclear if the iPad mini will feature Retina.
Apple is not going to release iPads that costs more or don't get as good battery life as the current models. So, if the next iPad mini does end up getting slated for April, it could be a spec bump, or have something other than Retina as a differentiator. Hopefully we'll know more soon.
Previous Retina iPad mini speculation has suggested a fall release date, which could fit in with iMore's predicted April launch if Apple moves to a bi-annual release schedule for its tablets. The Cupertino-based company could potentially release an iPad mini with a minor spec bump in April, and another with a Retina display in the fall.
iMore has been spot on with recent Apple releases, reporting the Lightning connector several months before it was released and predicting both the iPad mini launch date and the announcement date of the iPhone 5.