iPhone 5S Said to Feature Upgraded Rear Camera, iPad Mini Update Targeted for October
Following up on his report from earlier today about Apple's plans for the full-size iPad and iPhone, iLounge's Jeremy Horwitz has a new article sharing additional information on Apple's mobile device plans. The information comes from a "trusted source" and discloses product code names for the various devices as well as plans for an upgrade to the rear camera system for the iPhone 5S.
The iPhone 5S is still months away from mass production, but our source suspects that the star feature will be an upgraded rear camera—perhaps featuring Sony's 13-Megapixel sensor, plus the aforementioned flash upgrade—along with a processor bump. Current prototypes are codenamed N51 and N53, with July mentioned as the target date.
The source indicates that the code name for the fifth-generation iPad is J72, while the second-generation iPad mini has a code name of J85.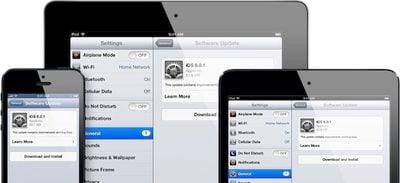 The report indicates that the second-generation iPad mini is unlikely to appear until October of this year, roughly the same timeframe as for the next full-size iPad. Sources have scant information on the actual device, but suggest that it is likely to retain essentially the same form factor as the current model and add a Retina display. A move to a Retina display without increasing the physical size of the device would almost certainly necessitate a change in the display technology such as the adoption of new IGZO panels.
Some previous reports had indicated that the iPad and iPad mini could see updates as soon as March as part of an effort to accelerate the product development cycle, but iLounge's claims of an October launch are more in line with a recent report from frequently accurate KGI Securities analyst Ming-Chi Kuo.