Apple Working on the iWatch, a Bigger iPhone, a Less Expensive iPhone, a Retina iPad Mini, and More
Rene Ritchie at iMore has shared some insights on Apple's product roadmaps across a number of products. Ritchie is somewhat circumspect in his statements, but reading between the lines, he hints at a number of significant developments that have been rumored previously.
iMore has been very accurate in recent years, including reporting on the Lightning connector months before it was publicly released, the iPad mini's launch, as well as revealing the iPhone 5's announcement date more than a month ahead of time.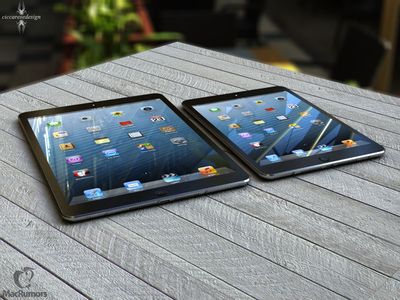 The full post is worth a read, but Ritchie says that sources "who have provided accurate information in the past" told him that the iWatch project is moving forward, though he has not heard anything regarding feature sets or timelines.
The iTV project is still in the works, but there is no significant movement on it as the realities of the TV and content markets remain the same. Rumors of an iPhone with a larger screen are accurate, but release "doesn't sound imminent", and its the same story for a less expensive iPhone. It's likely coming, but is a question of timing.
Finally, Ritchie talks of a redesigned iPad to match the iPad mini's bezel design (mockup pictured above):

To bring the full-sized iPad casing in line with the iPad mini's, and to bring the iPad mini display up to the full size iPad's Retina quality, will take improvements to the efficiencies of the screens, the LED that lights them, the chipsets that drive them, and the batteries that power them. All of those are coming, it's just a question of when they get here.
He notes that an iPad mini with Retina Display is on the drawing board, as soon as Apple can figure out how to cram the display into the mini's diminutive case. He also expresses excitement for Apple's software plans in particular, future releases of iOS. He wrote that his sources "sound excited about not just the atoms but the bits as well."
None of what Ritchie writes reveals anything particularly new or astonishing, but given his extremely accurate track record over the past few years, it's an important look into what Apple could be planning for the rest of 2013.