Apple Looking to Establish R&D Center in Beijing?
BrightWire reports on an article from Chinese web portal Tencent claiming that Apple CEO Tim Cook discussed during his visit to China last week the company's plans to establish a research and development center in Beijing. The report includes several other items of information pointing to Apple's continued efforts to strengthen its presence in the rapidly growing Chinese market.
- At a meeting with Beijing's acting mayor Wang Anshun on January 8, Apple CEO Tim Cook said the company plans to set up an R&D center in Beijing, an unnamed insider source told Tencent Tech today.

- Cook also noted that Apple will move a certain amount of its servers for App Store and iTunes to China in order to improve the downloading speed for users in China.
The report also cites "IT insiders" claiming that Apple is likely to set up its Chinese data center in either Zhangjiakou to the northwest of Beijing or in Inner Mongolia.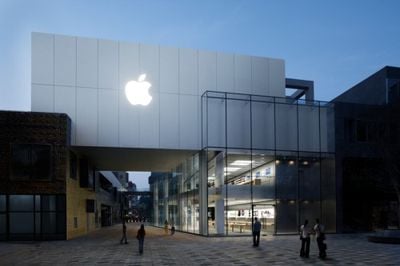 Apple's Sanlitun retail store in Beijing
Tim Cook
shared some of his thoughts
on the Chinese market during his visit to the country, noting that Apple has plans to build more than 25 retail stores in the Greater China region and that it is working hard to speed up the regulatory approval process for its products so that they can launch closer to the first wave of debuts.
Apple has been looking to open research and development centers outside of the United States, seeking to draw upon international expertise for some of its technological advances. The company has already moved forward on a center in Israel, and there had previously been claims that Apple was exploring the possibility of a research center in Russia, although those talks do not appear to have yielded any commitments.