Samsung Targets Apple Maps with New Promotional Display in Australia
Samsung is taking advantage of Apple's Australian Maps snafu, where several motorists became lost after Maps gave them the wrong directions to the city of Mildura, directing them instead to the middle of the Murray-Sunset national park.
To capitalize on Apple's mistake, Samsung released a new marketing campaign in Sydney, which was discovered by CNET Australia.
The display depicts a filthy, mud-covered white SUV alongside some camping equipment. A sign next to the car reads, "Oops, should have got a Samsung Galaxy S III. Get navigation you can trust."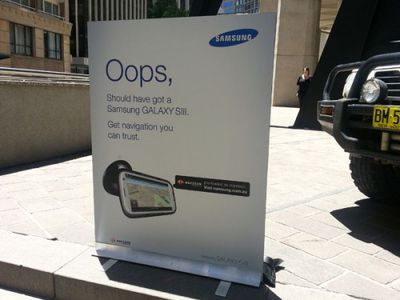 On Monday, Apple repaired the Mildura mapping error, and it was discovered that the source information that Apple used from the Australian Gazeteer was inaccurate, which is what led to the issue.
Google Maps came under scrutiny today as well, after a Yahoo news report stated that police in Colac were concerned that similar problems in Google's maps were putting people's lives in danger along the Great Ocean Road and in the southern Otways.
Samsung's latest stunt is one of many ads and displays that aim to paint the iPhone in a negative light, like the ad that portrayed the iPhone as uncool, depicting a Galaxy S3 owner saving a spot in one of Apple's iconic lines for his parents.
Apple and Samsung have had an ongoing feud since Apple accused Samsung of imitating its products. Most recently, Samsung was ordered to pay just over billion dollars at the conclusion of the U.S. trial, further souring the relationship between the two companies.