Apple Fixes Australian Map Error That Caused Police Warning, Issue Traced to Official Gazetteer
A day after police in Victoria, Australia issued a warning to motorists advising them not to rely on Apple Maps for directions to the town of Mildura due to a location error that led several drivers to become stranded in remote Murray-Sunset National Park, The Guardian reports that Apple has fixed the error.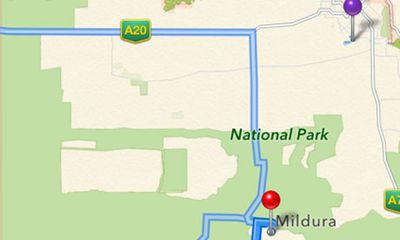 Purple pin represents actual location of Mildura; red pin represents original incorrect location
The error placed the town of Mildura some 45 miles away from its actual location and led to numerous motorists being stranded. The Victoria police responded by describing using the app to navigate as "potentially life-threatening."
While the label on Apple's maps has not yet been updated to show the correct location of Mildura, searches for and directions to the town now show the proper location.
Interestingly, The Register reports that the error was not entirely Apple's fault, as the incorrect location was included in the official Australian Gazetteer.
In this case, the Australian Gazetteer – the authoritative list of 300,000-plus placenames, complete with coordinates – includes two Milduras. One is the "real" town, the other is an entry for "Mildura Rural City", coordinates -34.79724 141.76108. It's this second entry that points to the middle of the Murray-Sunset National Park, just near a spot called Rocket Lake.
The report notes that this second point that Apple was mistakenly associating with searches for Mildura is in fact simply the geographic center of the area included within the Mildura Rural City local government area and thus does not correspond to the actual city of Mildura.
In his recent TV interview with Brian Williams, Tim Cook said that Apple "screwed up" with Maps and was now "putting the entire weight of the company behind correcting it." The company does, however, still have a significant amount of work ahead of it as it tries to catch up with Google's years-long head start.