Apple Targets Samsung With New Lawsuit Over 'Galaxy' Line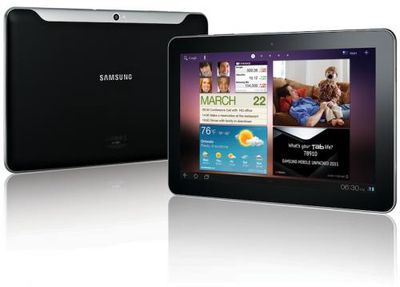 Samsung's Galaxy Tab 10.1
The Wall Street Journal reports that Apple has filed a patent lawsuit against Samsung, targeting the Korean company's "Galaxy" line of Android-based smartphones and tablets.
The lawsuit, filed on April 15 in the Northern District of California, alleged that Samsung's smartphones, such as the "Galaxy S 4G," "Epic 4G," "Nexus S" and its "Galaxy Tab" touchscreen tablet, violated Apple's intellectual property.
"Rather than innovate and develop its own technology and a unique Samsung style for its smart phone products and computer tablets, Samsung chose to copy Apple's technology, user interface and innovative style in these infringing products," the lawsuit said.
Samsung is one of Apple's chief suppliers for its own iOS-based devices, with Samsung manufacturing Apple's A4 and A5 systems-on-a-chip as well as LCD displays, flash memory, and other components.
Samsung is one the companies pushing ahead most aggressively in the tablet market to compete against Apple's iPad, having already released a 7-inch "Galaxy Tab" and announced larger 8.9-inch and 10.1-inch versions set to launch within the next few months. The company is of course also a major player in the Android-based smartphone market.
Update: All Things Digital has posted a few images from the lawsuit, a number of which show side-by-side comparisons between Apple's and Samsung's devices.