Tim Cook Speaks About Apple Maps, Samsung, and Apple's Future in TV Interview with Brian Williams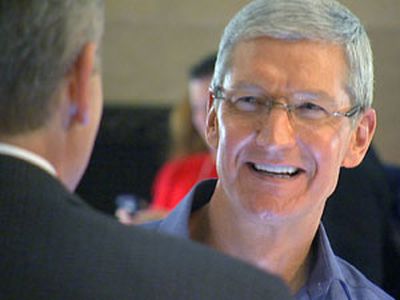 Tim Cook has held the reins at Apple for over a year now, and this evening, he gave his first official television interview with Brian Williams on NBC's Rock Center, where he spoke about his role as CEO after Steve Jobs, lamented about the Maps debacle, and revealed a few hints about what's to come for Apple in the future. The full video is embedded below.
The first part of the interview focused on his first year as CEO, and what it was like to follow in the footsteps of former Apple CEO Steve Jobs. Cook was humble and personable as he explained that Jobs taught him to "just do what's right."
When asked about Apple's Maps application, which has faced significant criticism and resulted in the restructuring of the company, Cook told Williams that Apple "screwed up," and is "putting the weight of the company behind correcting it."

Part 1
Cook also touched on the ongoing conflict between Samsung and Apple, after Williams played a
Samsung commercial for the Galaxy S3
that attacks Apple's iPhone, branding it as uncool.
We love our customers. And we'll fight to defend them with anyone. Is it thermonuclear war? The reality is, is that we love competition, at Apple. We think it makes us all better. But we want people to invent their own stuff.
In one interesting section of the interview, Williams asked Cook if Apple would last, and how the company would avoid becoming like Sony, popular in the 80's and 90's before fading into the background. Cook reiterated Apple's drive to focus on a small number of products.

We're very simple people at Apple. We focus on making the world's best products and enriching people's lives. I think some companies — maybe even the one that you mention, maybe they decided that they could do everything. We have to make sure, at Apple, that we stay true to focus, laser focus — we know we can only do great things a few times, only on a few products.
The juiciest details of the exchange between Williams and Cook, which were leaked in teasers earlier this afternoon, came in the second part of the interview, where Williams focused on the Apple television, the death of Steve Jobs, and the U.S. production of Apple products.

Part 2
Cook commented on the
much rumored Apple television set
, mentioning,
as revealed earlier
, Apple's "intense interest" in the market, but he revealed little beyond that, speaking cryptically about his love of "The Jetsons."
It's a market that we see, that has been left behind. You know, I used to watch "The Jetsons" as a kid. I love "The Jetsons." We're living "The Jetsons" with this. It's an area of intense interest. I can't say more than that. But …

He also went into more detail about Apple's plans to bring production back to the United States, confirming that next year, one of the Mac lines will be produced in the United States.
You know, this iPhone, as a matter of fact, the engine in here is made in America. And not only are the engines in here made in America, but engines are made in America and are exported. The glass on this phone is made in Kentucky. And so we've been working for years on doing more and more in the United States. Next year, we will do one of our existing Mac lines in the United States.
Williams ended the interview trying to get a few more tidbits on Apple's plans for the future, but this is all Cook had to say:
Our whole role in life is to give you something you didn't know you wanted. And then once you get it, you can't imagine your life without it. And you can count on Apple doing that.