4th Generation iPad Reviews: Faster, Better Camera, Lightning Port
Besides the iPad mini, Apple is launching another new iPad on Friday -- the 4th Generation iPad. The embargo has been lifted on those reviews as well, though they contain no real surprises. The 4th Generation iPad came out only seven months after the 3rd Generation model.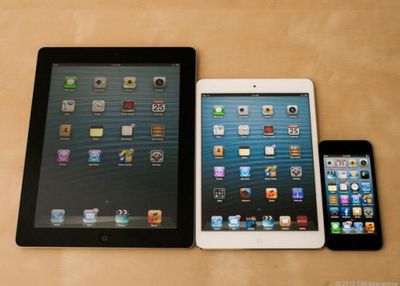 Image from
CNet
The changes include a faster A6X processor running at 1.4GHz allowing the device to run
twice as fast
as its predecessor. The new processor doesn't worsen battery life.
Engadget's
testing even showed it to be slightly improved. The front facing camera has been upgraded to take HD video, and the only other external change is the replacement of the 30 pin dock connector with the new smaller Lightning connector.
CNet
sums it up:
The latest iPad adds several tweaks and improvements to secure its position at the top of the tablet heap. It's better all around, but third-gen owners need not apply.
The other interesting effect the new iPad has on Apple's product line is that it increases the gap between the iPad 2 and the "new iPad". Apple has chosen to keep the iPad 2 at the $399 starting price point and simply retired the 3rd Generation model, replacing it with the new one. That $100 difference between the two models now represent a larger feature gap than before.
Full reviews:
- Engadget
- CNet
- SlashGear
- The Verge