4th Generation iPad Benchmarks Show 1.4GHz Dual Core Processor, 1GB of RAM
John Poole of Primate Labs posts about some 4th Generation iPad benchmarks that appeared in their Geekbench database on Sunday night.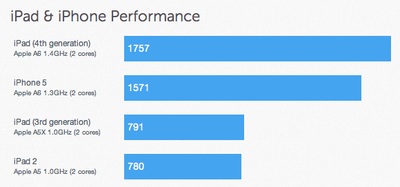 True to Apple's claims, the 4th Generation iPad benchmarks about twice as fast as the 3rd Generation iPad. The new iPad is based on an A6 processor which was first introduced in the iPhone 5. The iPad's processor is called the A6X, signifying the inclusion of quad-core graphics (vs triple-core) to help drive the device's larger Retina display. The 4th Generation iPad's A6X processor also appears to be clocked at 1.4GHz, slightly faster than the iPhone 5's processor which runs at 1.3GHz. This speed boost is reflected in the benchmarks above. (Readers should note that the original iPhone 5 benchmarks suggested that its A6 ran at 1.0GHz, but later more accurate testing showed it to actually to be ~1.3GHz.)
The amount of RAM in the device remains at 1GB -- the same as the 3rd Generation iPad and iPhone 5.
The 4th Generation iPad is now available for pre-order and will officially launch on Friday, November 2nd alongside the iPad mini.