Analyst Believes Apple Television Set Already in 'Full Production', Launch Timeframe Unclear
While The Wall Street Journal is outlining Apple's goals for a television set-top box, others continue to believe that Apple is working on a standalone television set of its own integrating much of the same functionality.
One of those observers is Jefferies & Co. analyst Peter Misek, who has been piecing together clues from Apple's supply chain in Asia and noted back in March that components for an Apple television set were "starting to move in small quantities". Misek is out with a new research note today, claiming that the Apple's television is now in "full production" with Apple looking to partner with providers such as AT&T and Verizon on the product while offering a set-top box alternative for entrenched cable providers.
We believe the iTV is in full production. Recent data out of Sharp, Hon Hai, and other specialty chemical and TV component suppliers support this. Also, JDSU noted that they have a new non-gaming customer for its gesture control modules. They indicated this is a new "living room" based customer. We believe Apple will leverage AT&T's and Verizon's content deals for the iTV. Additionally, the WSJ's sources indicate Apple may also consider a set-top box version for the cable operators.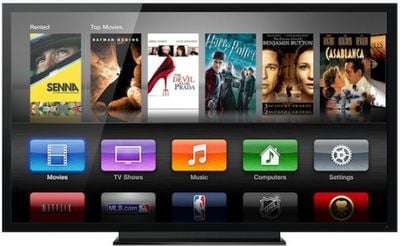 Misek is currently modeling for sales of two million Apple television sets in the fourth quarter of this year with an average selling price of $1250, but he notes that Apple may push back the launch into 2013 as it puts its focus on the iPad mini to counter efforts by Google, Amazon and Microsoft in the tablet market.
We expect either the iPad Mini to launch in CQ4 with the iTV either launching in CQ4 or CQ1.

Microsoft's Surface tablets, the initial success of Google's Nexus 7, and Amazon's upcoming product launches could be affecting Apple's launch schedule. These represent stiff competition vs. a likely lack of viable competition for the iTV over the next year. [...]

There is also the possibility that Apple chooses to launch both products before year end. The iTV would then be in time for the Christmas selling season, but that would mean Apple having three huge product launches in a short timeframe and leave little for CY13 outside of the typical iPhone and iPad refresh.
Misek also notes that Apple could be looking at a potential problem with display partner Sharp, which has continued to experience financial difficulties amid fears that the company could enter bankruptcy. Apple's assembly partner Foxconn/Hon Hai has already entered into a partnership that saw the company take a 10% stake in Sharp, with Hon Hai reportedly seeking to raise its stake to 20% as it renegotiates the deal in light of Sharp's continued troubles. Misek believes that Apple may find itself having to "spearhead a quiet rescue" of Sharp with the assistance of Hon Hai, given the close relationship among the three companies and Apple's existing investments in Sharp's facilities.